The MPAA's new website is rated "R" for ridiculous.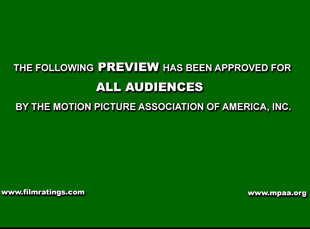 Posted by Vadim Rizov on
Even for an organization as historically obtuse as the MPAA ratings board, the latest upgrade to their image is a mess — their new website, FilmRatings.com, with the catchy subhead "The Classification & Rating Administration (CARA)," is a pain to navigate and centered around an endless "About Us" historical overview with some definite polemics about the organization's awesomeness:
Established in 1968, the voluntary movie rating system was born of a period of incredible social change in this country, when our society was opening up and embracing civil rights, women's rights, workers' rights and more. It is no coincidence that the expanding freedoms of our country and the birth of this cultural touchstone emerged hand in hand.
Even if ratings board founder Jack Valenti did work for LBJ, equating the civil rights movement with the establishment of the "R" rating seems a bit much. But this little bit of rhetoric also subliminally connects the MPAA with the progressive liberal movements of the '60s, suggesting it's not as conservative and fustian as everyone thinks it is.
Other highlights: "Ratings do not exist to cast judgment on a film or dictate the viewing habits of adults. Grown-ups have no use for such an approach in a free society. " It's the kind of rhetoric you'd expect to see in a stridently anti-Communist '50s textbook. "Society," in fact, is very important to the MPAA; it appears no less than eight times in the booklet they've put together. "Ultimately, the system was undone by society itself," they say of the old production codes; also, "society has grown increasingly concerned about drug use since the 1970s," which I don't think is actually true. Other modifiers for society: "open," "diverse," "democratic."
Then there's this hilariously evasive, genteel description of how use of the word "fuck" can affect a film's rating: "A motion picture's single use of one of the harsher sexually-derived words, though only as an expletive, initially requires at least a 'PG-13' rating. More than one such expletive requires an 'R' rating, as must even one of those words used in a sexual context."
The way the MPAA presents itself is tellingly defensive and self-aggrandizing, meekly casting itself in the passive voice according to society's needs rather than rigorously enforcing a very peculiar view of the world.
By the way, the most endearingly specific MPAA rating of late was for "Alice In Wonderland": "Rating PG for fantasy action/violence involving scary images and situations, and for a smoking caterpillar." It gives me a chance to share this horrifying clip of Sammy Davis Jr. as the caterpillar from the misguided-looking 1985 TV-musical version (also featuring Red Buttons, Scott Baio, Telly Savalas, John and Sally Struthers and others):
[Photos: the usual green-stripe preview card, MPAA; "Alice In Wonderland," Sony Pictures Home Entertainment, 1985]