The morality of making movies about the Holocaust.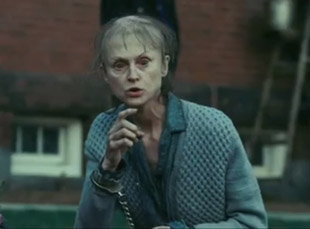 Posted by Vadim Rizov on
Bernard-Henri Lévy's "Shutter Island"/"Inglourious Basterds" op-ed in The Australian has been making the rounds for the last few weeks, jumping from one paper to another. (If you haven't seen "Shutter Island" and want to go in rasa, stop reading now, though there's nothing here that isn't in the first reel.) The editorial, which claims the films display "a real and potentially dangerous revisionism" in their treatment of Nazism and the Holocaust, is mostly bunk, but it does raise an interesting point.
Lévy, a French journalist and philosopher, was recently publicly embarrassed by writing a whole book attacking Kant — based, as it turned out, on satirical writings. So there are reasons besides moral ones as to why Lévy might want to weigh on the truth underlying "Shutter Island"'s Holocaust passages. It's certainly a good time to call out someone else for historical ignorance.
Lévy's only substantive point is that Scorsese (either deliberately or mistakenly) conflates Dachau and Auschwitz visually ("What can one say about the film's use of images from Dachau confused with those from Auschwitz in casual unawareness, notably the infamous Arbeit Macht Frei sign over the gate? Is it ignorance or wilful confusion?").
But what's really bugging him is the long-standing debate about the aesthetics of the Holocaust — what can be shown on-screen without cheapening the magnitude of the event (if anything), and what degree of aestheticization is too much. On this point, he couldn't be clearer: Lévy's with Claude Lanzmann, director of the monumental documentary "Shoah," who declared unambiguously "I am deeply convinced that there is a ban on depiction."
Fair enough. But that isn't really Lévy's stance. Mostly, he's worried that "Shutter Island" — where the POV of the wavering protagonist could, you know, explain the inaccuracies and conflations — is, like "Inglourious Basterds," a sign that "Nazism is becoming a new playing field for the amusement of the bad boys of Hollywood." That's a more interesting proposition, that the Holocaust isn't necessarily undepictable, but that it's certainly not to be toyed with.
What unites "Basterds" and "Island" isn't so much rewriting of history ("Island" doesn't rewrite it at all) as their insistence on fusing the undeniably pulpy with what's about as serious a genocide as is known to history — a new development. Hollywood first took notice of the Holocaust with some haunted protagonists (Kirk Douglas on the run in Israel in 1953's "The Juggler") and some big productions that yoked seriousness with appropriate running times and a sense that the films in question ("The Diary of Anne Frank," "Judgment at Nuremberg" and so on) deserved to be applauded just for existing.
The Holocaust film as a genre took a long time to get off the ground it was more likely to exist in the background (like the flashbacks haunting Rod Steiger in "The Pawnbroker") than as the focus of the running time. But when the Holocaust-as-primary-setting films came, they were not shy of grim footage. Even "Life Is Beautiful" — until recently the most iconoclastic take on the subject — didn't have the nerve to let its hero escape. At the end, grim history must always be reckoned with as the primary subject.
What's unnerving about "Basterds" and "Island" (especially the latter) is that there's really no way to know, going in, how important the Holocaust will be to both of them; the movies don't announce what should be, theoretically, the Most Important Thing about both films. "Basterds" posits movie-love as a backhanded way of getting revenge. "Shutter Island" goes further in showing how mass genocide could serve as the first triggering trauma for a man who came as close as possible to it without actually being complicit. Both, though, evade responsibility and refuse to stop dead to show the footage you'd normally expect.
That could be what's unnerving some, though it's worth noting — like The Auteurs Danny Kasman did a few weeks ago — that "It wasn't until the 1950s' adult cinema that it became widespread and mainstream for movies to be so self-conscious of their own seriousness, and placate the audience with it." This kind of B-movie-with-a-budget approach to the ultimate in the unrepresentable is long overdue. The alternative isn't very productive.
If you believe that nothing is unrepresentable (and I kind of have to), far better than this than some weepy violins and a return, again, to the camps. What "Shutter Island" makes vivid, finally, is trauma from another angle; its images are problematic, but indelible precisely because they're problematic, something no one watching them could be unaware of.
[Photos: "Shutter Island," Paramount, 2010; "Judgment at Nuremberg," United Artists, 1961; "Inglourious Basterds," Weinstein Company, 2009]