MAdM's Out of Our Minds multi-media/record release.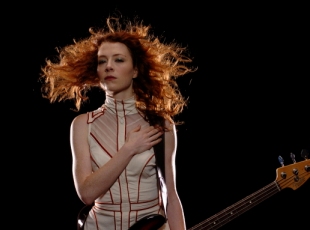 Posted by Brandon Kim on
What began as a second solo album turned into a full on media extravaganza including a film and comic book when Melissa Auf der Maur met director Tony Stone. Like me, she was blown away by his DIY backyard epic, "Severed Ways: The Norse Discovery of America" (Magnolia, 2007) and sought him to get the blood pumping on this project.
Last year they released a 30 minute film, called OOOM, a kind of music video meets Viking fantasy in the woods piece starring Melissa Auf der Maur. It was hot and bloody. See more on that here.
Now comes the record with accompanying comic book by Jack Forbes . Of course, there's a video too, for the title track, also directed by Stone. It's a distillation of the film into a song, with a few surprises. "We are particularly proud of the fireballs," Auf der Maur, who reprises her role as babe in the forest, beamed. Don't scorch yourself!
Also, check out some of this smart lady's thoughts on the wonderfully flawed borough of Brooklyn today on BlackBook. "Brooklyn is a lot like Montreal, where I grew up. It's the old world preserved. Gentrification is in full effect, of course, but it's going to take some time to totally destroy what's left. There is so much soul in the cracks of the borough…" she writes, but isn't too shy to tell it like it is. "But there's some bad stuff happening along the river. The architecture is so cheap and gross there and the people who move to those buildings are people who would otherwise never set foot in Brooklyn. They're part of that no culture, one-size-fits-all capitalist mentality, in which as many people as possible get squished into one property." Word.
More MAdM and the release.
More OOOM and the short film.
More "Severed Ways" and Tony Stone.