"MacGruber" explodes on to SXSW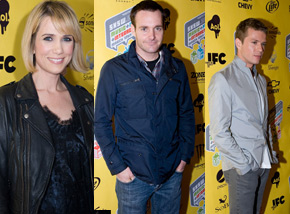 Posted by IFC on
For a week night in Austin, it looked a little more like a Saturday from New York as Will Forte, Kristen Wiig and director Jorma Taccone (of the Lonely Island) walked the red carpet at the 2010 SXSW premiere of their new action comedy, "MacGruber." Joining them for the event were co-stars Ryan Phillipe, Val Kilmer and fellow SNL collaborators John Solomon, Akiva Schaffer and Seth Meyers.
"MacGruber" began as a popular "Saturday Night Live" sketch that involved an "MacGyver"-inspired adventurer trying to disarm a bomb using repulsive elements with only seconds to spare, ultimately distracted by his own personal problems and shortcomings. The feature film pits MacGruber (Forte) against the villainous Dieter Von Cunth (Kilmer) in a race to stop a doomsday device.
"MacGruber" opens in theaters May 21st. To learn more about the film, you read IFC's review here.
[Click the thumbnails to see the images full size.]