Having it both ways with "Lovers of Hate."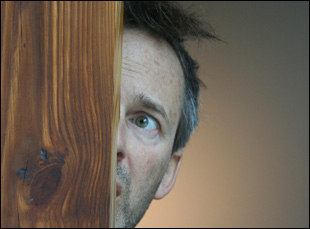 Posted by Stephen Saito on
Reviewed at the 2010 SXSW Film Festival.
"Why don't you just help me?" Rudy Lucas (Chris Doubek) pleads of his brother Paul (Alex Karpovsky) at one point in "Lovers of Hate." It's a simple question, but it takes nearly Bryan Poyser's entire movie to answer. Strangely, this is long after our awkward first impression of Rudy, a shaggy, unsuccessful middle-aged writer living out of his Ford Escort in Austin after being kicked out by Diana, his wife of 12 years (Heather Kafka). He's having trouble finding a place to clean himself, settling on an elderly woman's home during his dull day job as a survey taker of sorts when he realizes he only has so long to lather at a local car wash. Paul, on the other hand, is in town to promote his latest in a series of popular children's fantasy novels, "Maximillian and the Incredible Kids: Rift Warriors," which by no means is suggested to be a classic of the written word, but has certainly been a financial success.
Knowing that his marriage to Diana is the only thing that would impress Paul, Rudy coerces Diana to pretend that they're still together, and Paul lends credence to this by saying at the end of their evening together, "It somehow recalibrates my sanity every time I see you guys." And that's where the insane part of Bryan Poyser's dark domestic comedy begins, as a suspicious Paul learns that Diana left Rudy two weeks earlier and whisks her off for a weekend in the snowy slopes of Utah, with Rudy sneaking into lare house to keep tabs.
This is an extremely bad idea, but that's what Poyser specializes in, if this and his Spirit Award-nominated "Dear Pillow" are anything to go by. As well-told as the latter was — a coming-of-age story tied to a young man looking for a career in writing pornography — the irony of "Lovers of Hate" is that it took a story that is largely confined to a house (albeit a very big house) for Poyser to expand the world that his characters inhabit.
From the opening frame of "Lovers of Hate," the film never feels small, yet when the action moves from the haze of Rudy's scrappy life in Austin to the brighter, snow-covered plains of Park City, Poyser is able to use every ringing cell phone, unflushed toilet and cutting remark for uncomfortable laughs and a deeper understanding of each of the central three characters. Rudy skulks around the house hoping to go unnoticed by Paul and Diana, who can't keep their hands off each other.
Poyser gets to have it both ways — using Doubek's sad-sack Rudy as an agent of sabotage for the potential long-term prospects of Paul and Diana's relationship, as well as an observer that can bring the audience in to feel more intimate with the couple's ever-changing feelings towards each other than most dramas usually allow for. During the Q & A, someone asked why Poyser just didn't make a horror film when the premise is so ripe for scares, but the film's originality stems from how scared the characters are of their own shortcomings.
Eerily enough, one can already watch the film via video on demand, a fact that led Poyser to gently kid the audience before the film that they were all "suckers" for coming to see it at the Paramount. Yet the big screen rarely sees films these days that are as ultimately rewarding as "Lovers of Hate," the type of smart, incisive indie that was common in the early '90s, but has trouble finding a proper niche today, an appropriate metaphor for a film about three people who are struggling to fit the roles that have been set out for them.
"Lovers of Hate" is now available on demand through June.
[Photos: "Lovers of Hate," IFC Films, 2010]