The potetry of "Leaves of Grass."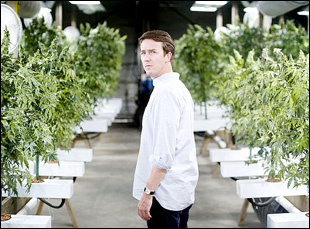 Posted by Matt Singer on
Reviewed at the 2010 SXSW Film Festival.
At the intersection of pot and poetry, at a place we might as well dub "potetry," lies Tim Blake Nelson's "Leaves of Grass." Pot movies, like potheads, have a tendency to wax philosophical — this one has an actual philosophy lecture. In it, Brown classics professor Bill Kincaid (Edward Norton) argues for Socratic ideals of self-discipline and control. He practices what he preaches, too; in the next scene, a young female student throws herself at Bill, and his restraint would make Socrates proud. Meanwhile, down in Bill's home state of Oklahoma, Bill's identical twin brother Brady (also Norton) operates on the opposite end of the spectrum as an unhinged agent of chaos, running a marijuana growing operation dubbed "the Taj Mahal of hydroponics."
Brady needs Bill back in Oklahoma to help him with a drug-dealing scheme, so he decides to fake his own death, forcing his brother to reluctantly head home to one honey of a culture clash. Nelson, returning to Oklahoma for the first time as a director since his 1997 debut "Eye of God," revels in the awkward collision between high art and getting high. That friction exists both between Bill and Brady and within the film as a whole, which oscillates, sometimes within a matter of seconds, from sincere poetry readings to hillbilly jokes, or from cutesy fight scenes to intense, bloody violence. The shifts in tone are entirely intentional and, at least from my perspective, entirely off-putting. Nelson wants to make jokes and points simultaneously; too often, one cancels the other out. It's hard to take a movie seriously when it features Three Stooges-style chase sequences and it's hard to laugh at jokes, even inspired ones, moments after you watch someone get brutally murdered.
Much of the task of selling the humor and the pathos falls to Norton as both Kincaid twins. Since he's one actor playing two brothers, that means lots of trick shots in which the two brothers appear in a single shot together. If the "Leaves of Grass" approach to the twin interplay (twinterplay?) doesn't have as much innovation (twinnovation?) as last year's "Moon," Norton still does a marvelous job fleshing out Bill and Brady as believable brothers, different in many ways, connected in others. Still, his best work in the film might be the stuff he does at the end, when the twins are separated again, and one of the brothers reveals how he truly felt for the other after all their years apart. He also has some nice chemistry, of both the sexual and intellectual varieties, with Keri Russell, who plays the one woman in rural Oklahoma interesting enough to make Bill consider sticking around for even a second longer than familial obligation requires. The idea of a woman gutting a fish while quoting Walt Whitman poems might not sound sexy, but Russell proves it can be when done by the right woman.
The rest of the impressive cast is squandered on go-nowhere roles: Susan Sarandon as the Kincaids' depressed mother, Melanie Lynskey as Brady's pregnant fiancée and Richard Dreyfuss in basically a glorified cameo as the drug kingpin of Oklahoma. Nelson might have had more time to showcase these very talented actors if he didn't get so wrapped up in every single development of his overly intricate drug plot, or in a series of increasingly implausible endings. "Leaves of Grass" has some genuinely funny moments and two actors giving three very good performances, but it's just too overstuffed, like a joint that's so full that everything just falls out the sides when you try to roll it.
"Leaves of Grass" will be released by First Look on April 2nd.
[Photos: "Leaves of Grass," First Look Studios, 2010]