"Kick-Ass" Hits SXSW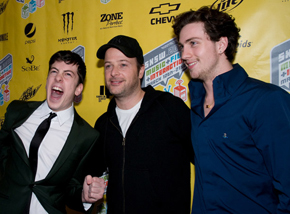 Posted by IFC on
Fans eagerly awaiting the SXSW premiere of "Kick-Ass" might have psyched for an evening of mayhem, rubber and spandex, but stars Aaron Johnson and Christopher Mintz-Plasse arrived in style for the opening of their new film in Austin, TX. Joining them on the red carpet was the film's director Matthew Vaughn and the creators of the original comic book series, writer Mark Millar and artist John Romita Jr.
Earlier in the day, Mintz-Plasse and Johnson stopped by the IFC Crossroads House to chat with IFC News Host Matt Singer about the movie, "Kick-Ass" sneakers and fighting about source materials with fans on the Internet.
"Kick-Ass" tells the story of Dave Lizewski (Johnson), an average New York teen who takes his love of comic books to a new level when he decides to become a real-life crime fighter. As Lizewski descends in to a world of violence and danger, he is joined in his crusade by Red Mist (Mintz-Plasse), Big Daddy (Nicolas Cage) and his assassin daughter Hit Girl (Chloë Moretz). "Kick-Ass" opens in theaters April 16th.
[Click the thumbnails to see the images full size.]