"Kick-Ass": As far back as I can remember, I always wanted to be a superhero.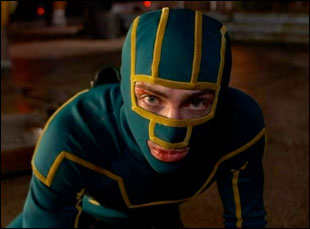 Posted by Alison Willmore on
Reviewed at the 2010 SXSW Film Festival.
Matthew Vaughn's "Kick-Ass" has one complicated relationship with fanboy culture — specifically the comic book superhero-loving variety. On one hand, it's a kinetic, funny, violent and righteously entertaining flick that's bound to please anyone with a soft spot for stories in which someone costumes up and fights crime, which, these days, is almost everybody. On the other, it's a critique of that very fascination, suggesting that if you really want your life to be less ordinary, you should consider actually getting a life — escaping the escapism, bounding off the couch and, if you're lucky, maybe even finding a way to get laid. Ready or not, here comes the meta-fanboy movie the world deserves, one that manages to have its cake and eat it too.
New York high schooler Dave Lizewski is unexceptional in every way except that he's played by Aaron Johnson (also someday to be seen playing young John Lennon in "Nowhere Boy"), who's so clearly going to be a big movie star that the idea of him being ignored by his female classmates requires a bigger suspension of disbelief than the events that unfold. Neither popular nor terminal nerds, Dave and his two best friends have been coasting through their teenage years, entertaining themselves with the aforementioned comic books, surfing the web and jerking off to thoughts of their English teacher's considerable endowments.
It's frustration with that passivity and the fact that the majority of those around him seem to be living life as a spectator sport — like the man who sees the trio getting mugged in a parking lot from his apartment window and just shuts his curtains — that prompts Dave to make himself a costume out of a green scuba suit, yellow gloves and hiking boots (it never looks anything but ridiculous) and come up with an alter-ego: Kick-Ass. "Like every serial killer already knew, eventually fantasizing just doesn't do it anymore" he observes in the running voice-over, and soon he's trying to stop the two thugs who stole his wallet earlier from jacking a car. And, like anyone whose practical fighting experience is limited to air punches in front of a mirror, he's woefully underprepared, and almost gets killed.
To use the treasured film critic term, scopophilia is what's weighing on "Kick-Ass"'s universe. Everyone is so steeped in media intake, from movies to television to graphic novels, that it's warping their behavior — even the bad guys, a crime syndicate presided over by Mark Strong's sadistic Frank D'Amico, seem to be styling themselves after people they've seen on screen. "I've always wanted to say this," one smirks as he picks up some especially heavy weaponry. "Say hello to my little friend!" When Kick-Ass tries the superhero stunt again, attempting to save a man from a gang beating, he becomes an internet celebrity because the guy he asked to call 911 gathers a crowd who record the fight on their cell phones instead. And when he meets some "real" superheroes, a father and daughter pair who go by Big Daddy (Nicolas Cage, doing enjoyably weird as opposed to "er, what's going on here?" weird) and Hit Girl (13-year-old Chloe Moretz), they're even deeper into comic book land than he is, with Cage's character, otherwise known as Damon Macready, documenting their tale of tragedy and vengeance out panel by unhinged panel.
The relationship between Macready and his child, real name Mindy, is a psychedelic swirl of aw-shucks, "Leave It To Beaver"-style nurturing and splatter-filled annihilation. (The one between Frank and his neglected son, played by Christopher Mintz-Plasse, is its own mix of regulation daddy issues — "Eat your oatmeal!" — and operatic villainy.) Mindy, a foul-mouthed four-and-a-half-foot dynamo who wears a mask and a purple wig when slicing through thugs as Hit Girl, of course walks away with the movie. Any urgings to stop gawping and start doing fall by the wayside in the face of a meticulously choreographed sequence in which a transgressively little girl destroys a dozen mobsters, reloading, slow-mo, in mid-air — why else do we while away beautiful summer afternoons in dark theaters if not to gape at ludicrous, glorious schlock spectacle like that? And though it muddies its message, "Kick-Ass" has to tip its hat to its own inner fanboy in those moments, or when the bloodied but triumphant Dave tells the kid with a camera the name he's invented for himself, or in a euphoric finale enabled by a bit of earlier online shopping. We could all do with a little more engagement. That doesn't mean we can't still acknowledge when something's totally sweet.
"Kick-Ass" will be released by Lionsgate on April 16th.
[Photos: "Kick-Ass," Lionsgate, 2010]