Kevin Smith mouths off to his critics.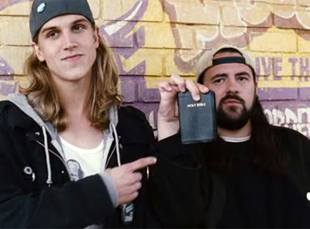 Posted by Vadim Rizov on
"Clerks," Kevin Smith's debut, was a funny, acute and influential indie about slacker careers of desperation. But in subsequent years Smith has given us one mixed bag after another. "Mallrats" is a toxic if incidentally amusing mess, "Chasing Amy" a mix of potent relationship drama (both male-male and female-male) and fanboy stupidity; after that, I checked out until "Clerks II," and we all know how that turned out.
Smith is all id as a writer, which takes him to weird and honest places but also means he indulges bad ideas about pop culture blather on a regular basis. He's the social realist of the Aint It Cool aesthetic.
I haven't seen "Cop Out" yet, but the idea of Smith as a director-for-hire is counter-intuitive. His films are infamously indifferent visually. "Chasing Amy" has to be the ugliest movie ever to be validated by Criterion — I particularly remember an appalling shot where a close-up of one man's head cuts him off right about the forehead, an incompetence of framing so severe it's amazing no one on the set caught it. And that's why Smith's fight with EW critic Owen Gleiberman (taking place in the always tough to verify comments, though Smith later says "I've posted verifiable links on my messageboard and Twitter. Yes, those first few posts are moi") speaks to a strange moment in his career:
Kevin Smith | Wed 2/24/10 05:40 PM

I'm starting to feel like Jim Garrison: look at the crazy, sellout, pointing out inconsistencies in his life choices – that crackpot! How dare a celebrity defend himself online from mere peasants!! But I'll take "crackpot" anyday over the human-weasels that say I did this for money. Sweet whistling Moses – only an angry fan could ever think a celebrity who has already made enough money doing this for a long while would make a movie like this for a paycheck.
As a speaker, Smith is a witty and appealing guy. I've seen some of the DVD in which he holds forth, and there's a reason he made it to Carnegie Hall — as an on-the-spot raconteur, he's gifted. But it's also indicative of why Smith would be better off not directing his own work (let alone anyone else's) — directing is in the eyes, not the mouth. That's why this tiff is so unpleasant. It's an assertion of self about his weakest element.
[Photos: "Clerks II," The Weinstein Company, 2004; "Cop Out," Warner Bros., 2010]