Jonas Åkerlund: Requiem for a music video bad boy.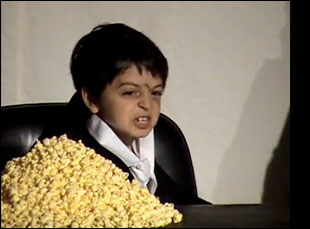 Posted by Vadim Rizov on
[Update: The post below refers to Jonas Åkerlund as the director of "Scarface School Play." The real director has since stepped forth: veteran music video director Marc Klasfeld (Jay-Z's "Girls Girls Girls," among others), whose production company — oddly enough — has also done a Lady Gaga video. I regret jumping the gun; the sentiments applying to Åkerlund still stand.]
2010 is turning out to be a very good year for Jonas Åkerlund, probably his best since 1997, when his video for The Prodigy's "Smack My Bitch Up" generated controversy right on schedule. (Shocker: MTV doesn't show videos featuring women getting smacked/naked chicks. Who would've known? This video is still NSFW.) Åkerlund, the past master of getting people's ire up and then pretending he had a real point, has in the last few years found the collaborator he deserves in Lady Gaga.
But let's not get ahead of ourselves. Back in the '90s, it seemed like every single music video/commercial director who could adequately hype themselves would get at least one feature vehicle. This proved to be a pretty good filtering system — David Fincher, Michel Gondry, Mark Romanek and so on — but don't forget the ones who got left behind, like poor Peter Care, who may have made key R.E.M. videos ("Man on the Moon" is still pretty great), but after the wan "The Dangerous Lives of Altar Boys." went back to what he's good at. Some people just can't make the leap.
There should have been no real reason to expect Åkerlund to do so either — there's not an awful lot going on beneath the surface outrage. "Smack My Bitch Up" was best known for showing someone going around drinking, wreaking havoc and abusing women — the big reveal was that the perpetrator was a woman, which effectively makes "Smack My Bitch Up" a grungier version of "Disclosure." In general, all of Åkerlund's videos feature some combination of soft-core sexuality, violence, ugly faces and distorted colors; there's not a whole lot to the trick.
That makes Åkerlund a peculiarly '90s phenomenon — someone whose attempts at shock were perfect for the most overparented decade on record and that fall flat in an era when the internet is there for any halfway intelligent 13-year-old to use. There were also two movies that didn't go anywhere — 2002's "Spun," which came off like "Requiem For A Dream" for people who giggle about heroin, and last year's little-seen "Horsemen" ("Seven" without a point) — and now he's back generating video controversy, with his much-hyped collaborations with Lady Gaga, the epic-length videos for "Paparazzi" and "Telephone."
Åkerlund's latest stunt doesn't actually have his name on it. "Scarface School Play," a calculated bid for YouTube immortality, is a video that features little kids enacting, Max Fischer Players-style, the ridiculously cable-dubbed version of "Scarface." Uploaded by "cindymomof6," the video's at 435,592 views and counting, with plenty of enraged comments from viewer who took it to be real. A day after release, we were invited to guess who was behind it — Cinematical soon pegged it as Åkerlund's latest attempt at provocation. To what end?
You can always fool some of the people all of the time. Gaga really is the collaborator Åkerlund has been waiting for, someone who's discovered there's no such thing as a button that can't be pushed too many times. Both "Paparazzi" and "Telephone" mix-and-match sure-fire elements for internet success — girls making out! Tarantino references! elaborate fashion changes! — in shameless fashion.
Gaga's game, of course, is that she's post-post-modern, transforming Madonna's naked quest for power and celebrity into a process you don't have to be very bright to follow. Gaga announced herself as a controversial celebrity before she was one and keeps upping the ante (both of her videos with Åkerlund take a cheerfully nihilistic attitude towards killing men) — but she's winking the whole time, and you know there's nothing at stake. It's an attitude that endears her to music critics who need fodder for over-analysis while still delivering acceptably bland dance synth-pop.
Åkerlund's videos with her are a tacit admission of defeat. Once, you could argue there was an actual intellectual point to "Smack My Bitch Up." Now, any form of "provocation" is a game designed to generate controversy, and if you, the viewer, are cool with that, then we can all feel better about our trashier pleasures.
[Photos: "Scarface School Play," from YouTube; "Spun," Newmarket Films, 2003; "Paparazzi" music video, Interscope, 2009]