John C. Reilly and Jonah Hill bring "Cyrus" to SXSW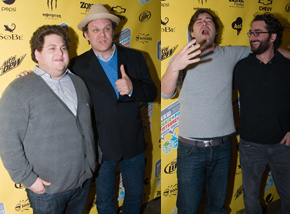 Posted by IFC on
Austin may not be the city of brotherly love, but brothers Mark and Jay Duplass were all smiles at the SXSW premiere of their new comedy, "Cyrus". Joining them for the screening at the Paramount Theater were the film's stars; John C. Reilly, Jonah Hill and Katie Aselton.
The awkward dynamic in "Cyrus" revolves around a man recovering from a heart-breaking divorce (Reilly), the woman who teaches him to love again (Marisa Tomei) and her overly-attached grown son who refuses to leave the nest (Hill).
On Saturday, Jonah Hill and the Duplass Brothers all came by the IFC Crossroads House to talk with host Matt Singer , touching on topics that varied from the proper mindset for indie film-making to the haven Austin provides for the counter-cultural in the Lone Star State.
[Click the thumbnails to see the images full size.]