Jeff Bridges makes Oscars feel real, man.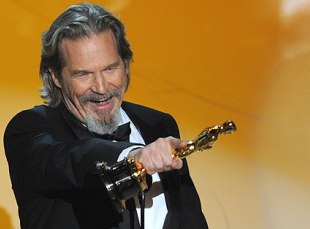 Posted by Brandon Kim on
Finally. It's well past time those Academy types acknowledge Jeff Bridges, the greatest actor of our time, for his work. It's not that he needs it (or I need it) but the Academy Awards, ever on the cusp of being a gratuitous joke, simply have no credibility without recognizing Bridges for his genius.
When you deal in fine arts auctions, you deal with Christie's. If your business is global arms sales to developing nations you buy from the biggest arms manufacturer in the world, the United States government. If you are in the business of recognizing the best film actors, you recognize Jeff Bridges. I can't fathom what took them so long.
Also deserving were Ryan Bingham and T Bone Burnett who won for best original song with "The Weary Kind" from "Crazy Heart." Bingham truly has a great voice and seeing him onstage, it's clear he also has charisma, I'm sure it won't be the last time he accepts an award. T Bone Burnett looking like an overgrown James Cameron in shades should need no introduction, but here's more on him, Jeff Bridges and that golden crusader for good measure.
Dig Jeff talking after the awards about music and movies as the common human link and one of his favorite characters, The Dude:
Oh and highlights from Bridges hilarious speech. Some people thought it was "rambling" (like the LA Times) or "loopy" (NY Mag). I heard a man keeping it real.
(vid from Vulture).