Why Robert Pattinson is no James Dean.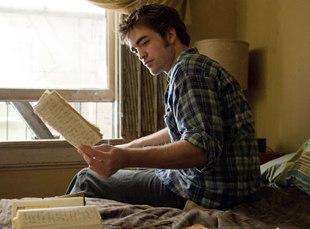 Posted by Vadim Rizov on
Reviewing today's much-anticipated-by-ironists romantic drama "Remember Me," the AV Club's Scott Tobias notes in passing that the film attempts to turn Robert Pattinson "into the millennial James Dean." That's an interesting thought — Dean is one of those icons rooted in his time, not someone who created a living archetype that people still try to inherit.
According to John Swansburg's Slate appraisal on the 50th anniversary of Dean's death, "Morbidity has always been at the heart of the James Dean cult." Like displaced Keatsians, Dean fans celebrate a Romantic-era notion of beauty nipped in full flower (as opposed to Brando, who blew himself up career-wise and in real life). But more than that, Dean invented the moody teenager as anti-hero — a previously unknown figure. It persists in music, and legions of teenagers still read and over-relate to "Catcher In The Rye." But film is a different story.
Dean's three films (wrongfully) have become time capsules rather than ones passed down (though, in general, few movies older than "The Godfather" has retained emotional currency for many people so continuously and pervasively). The volatile method approach to acting that Dean was initially accused of copying from Brando was extended by the latter, briefly adopted by Warren Beatty as he was starting out, and then basically went extinct. The brooders and shouters that succeeded had a better sense of humor (Pacino, Nicholson) or wielded neuroticism like a weapon without the physical violence (Hoffman).
Then the '80s came and John Cusack stripped the violent component out entirely; tortured leading men are now more fluffy and/or ineffectual than violent. As a counter-reaction, you can read weird pieces about how John Krasinski is too nerdy to be an action hero or comment threads about how "Hollywood is importing badasses from Australia." What James Dean had was the sensitivity and dangerous in equal proportion; now, the two traits have been separated.
[Photos: "Remember Me," Summit Entertainment, 2010; "Rebel Without A Cause," Warner Bros., 1995]