Investing in the Future of Indie Games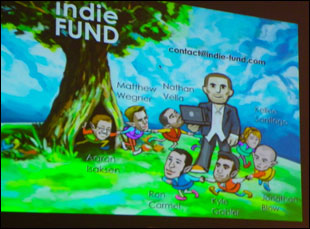 Posted by Evan Narcisse on
Every winter, there's a video game pilgrimage to San Francisco. College students, journalists and dealmakers descend on the city's Moscone Center for the annual Game Developers Conference, looking to discover or become part of the Next Big Thing in interactive entertainment. At the yearly confab that draws them together, members of development studios all over the world — who toil in near-total anonymity — come up for air and compare notes on process and quality of life. The artists, programmers, coders and designers also come here to plot out their next career moves or, at least, to get re-inspired and re-energized.
The most inspiring and energizing thing at this year's GDC may have happened on its first day. During the opening hours of the Indie Game Summit, developer Ron Carmel gave a talk that announced the formation of the Indie Fund. Carmel outlined how this new organization would help fund other aspiring independent game developers. The San Francisco resident — who, along with partner Kyle Gabler, makes up dev studio 2D Boy — became one of the DIY gaming scene's established stars with the success of "World of Goo" two years ago. So it was big news that he and several other successful indie developers would be pooling money together to grow the ranks of people who want to make games on their own. To find out more, I reached out to Carmel and another IF co-founder, Aaron Isaksen of AppAbove Games, to talk about Indie Fund's origins.
It seems like game developers tend to work in bubbles where they lose touch with the outside world. That isolation must be even more intense so for indie developers, who have less manpower and sometimes even work solo. So how is it that you and Kyle, Kellee Santiago, Jonathan Blow and the others got together to form Indie Fund?
Aaron: Considering that indies aren't encumbered by bureaucracy, lengthy employment contracts, and scary non-disclosure agreements, its actually much easier for us to share information and ideas with each other than if we worked for a traditional company. Skype calls, email, mailing lists, wikis, blogs, conferences, face-to-face lunch meetings, and cafe work groups keep us plenty in touch with each other. We first started tossing around ideas for Indie Fund at a meetup of indie developers at GDC 2009, hashed out a lot of the details over email and Skype, and then I think we met one more time in person at GDC 2010.
Ron: The opposite is actually true. Yes, we work in small teams, sometime teams of one person, but it's a tightly knit community. We talk to each other regularly, collaborate on small projects here and there, and actually spend quite a bit of time together both during conferences and in everyday life. The San Francisco Bay Area in particular is a huge indie hub. Kyle and I are here, as is Jon Blow ("Braid"), Derek Yu ("Aquaria"/"Spelunky"), David Hellman ("Braid"), Colin Northway ("Fantastic Contraption"), Chris Hecker ("Spore"/"SpyParty"), Steph Thirion ("Eliss"/"Faraway"), and I could go on. But to answer your question, the idea for Indie Fund came up at GDC last year in an informal gathering of indie developers, and evolved during ongoing conversations in the following months.
In any medium, the concepts "indie" and "money" are set up as polar opposites. It'd be one thing to form a creative support group of all you indie developer guys, but what sparked the idea to create a financial body?
Aaron: There is nothing wrong with indies making money. They aren't polar opposites at all. The real question is who has control of the money and who gets to keep it. We are trying to keep indies financially and creatively independent, and the way to do that is to keep as much control as possible in the hands of the indie developer.
Ron: Last year at GDC a bunch of us were talking about how and where to get funding from… anything from government grants to publishers. Few people were pleased with their funding sources. Government grants are cumbersome and involve a ton of paperwork and lengthy evaluation processes, and publishing deals often mean accepting bad terms. Aaron raised the question of why aren't indies funding indies. The concept has been around for a while, but for some reason that was the day that it caught traction.
The most striking thing about the Indie Fund details you talked about at GDC 2010 was that the organization wouldn't seek any IP ownership or control of the games you help. Isn't there a business liability here, in terms of not being able to replenish the Fund?
Aaron: Indie Fund is intended to make a profit, so that we can be self-sustaining and invest in more games as the years go on. There are other ways to make profit on our investment other than owning IP, such as by getting a royalty rate on sales. The reason we don't want to control the games is that it's not sustainable or scalable. We all have our own games to create, and we want to help developers that can get games done on their own, if they just had the financial means to do it.
Ron: The fund will make money by getting a share of the revenue generated by the funded games. That is in line with our goal of helping indie developers get and stay financially independent. Making the fund as profitable as it can be can not come at the expense of this primary goal. So yes, we're giving up some potential profit.
Another thing that you talked about at GDC was that the Fund wouldn't be supporting projects that are at the ideas stage and that prospective applicants would need to have playable prototypes. What's the thinking behind that decision?
Ron: There are several important milestones in the development of any game. The concept, the playable prototype, and the execution. I think the vast majority of games die in the space between concept and prototype. It's very difficult to predict whether a game will be compelling before it's prototyped and played. Right now, investing in an idea is simply too risky for us. Additionally, having a playable prototype says a lot about the team's commitment as well as their ability to execute.