The strangeness of that John Hughes tribute.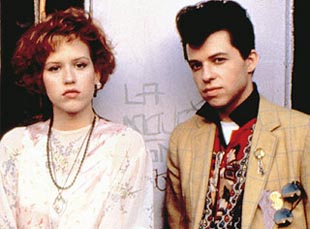 Posted by Vadim Rizov on
Nothing in last night's Oscar ceremony showed quite the lapse in judgment of the epically long John Hughes tribute montage, in the face of which everyone fell silent and wondered what they were watching. Sure, Hughes is widely beloved by '80s teens and even by '90s kids — his death sparked an internet outpouring of emotion to almost rival Michael Jackson's. But that didn't seem to merit the separate montage and subsequent parade of oral tributes from Hughes' unofficial acting company.
Forget the Farrah Fawcett snub and the relegation of Eric Rohmer to also-ran status. In stopping everything dead to pay tribute to a man who never came within striking distance of a nomination, the Oscars effectively (and unwittingly) made a case for their obsolescence. Here, apparently, is the man who warped the '80s more than any other writer/director, and who some people never got over, as if he were their own personal Woodstock. A man whose work, by its very populist nature, was destined to bypass the awards rat-race, one for whom there's no real contemporary analogue (Judd Apatow maybe, but it's not the same).
This is so strange — stranger than the Best Picture victory of the lowest-grossing winner ever (still wrapping my head around that), stranger than those silly dance numbers, stranger than whatever was going through George Clooney's head. For a few minutes, everything stopped dead so we could contemplate how — even in a year when a movie critics actually liked won and more people tuned than ever since 2005 — nothing will ever matter as much as "The Breakfast Club." And Duckie. This even though most reasonable people are willing to concede that the films a) aren't that good b) certainly didn't deserve their own segment, no matter what garbage the Academy normally honors.
It was nice to see Macaulay Culkin. You'd think such a ceremony would at least give everyone a few minutes of unforced nostalgia and reverie (unlike the forced frog-march of Look How Magical Movies Are that characterize most of the montages and tribute). Instead, everyone looked different and horrifying and had nothing to say. A missed opportunity.
[Photos: "Pretty In Pink," Paramount, 1986; "The Breakfast Club," Universal, 1985]