The morality of Paul Greengrass' shaky-cam.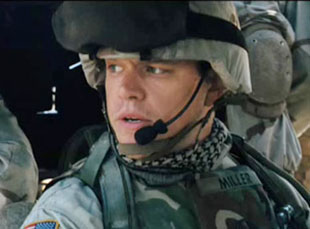 Posted by Vadim Rizov on
No one could say that Paul Greengrass lacks good intentions. As a reporter for the British current affairs show "World In Action," Greengrass worked on two contentious stories. The first was an interview with IRA hunger striker Raymond McCartney (preparation for which was done via smuggled messages written on cigarette papers), the second a collaboration with former MI5 scientific officer Peter Wright, who claimed his former boss was a Soviet mole. This is probably not true (at least according to Christopher Andrew's 1032-page authorize MI5 history), but Greengrass has the taste of activist blood on his lips. (The fact that Margaret Thatcher allegedly called the show "just a lot of Trotskyists" was probably music to his ears.)
These aren't the expected background credits of a man responsible for rebooting a huge action franchise — it's sort of like imagining Carl Bernstein shooting "Indiana Jones." But Greengrass became an activist director of sorts, working steadily in film and TV (ghoulish trivia: his 1998 drama "The Theory of Flight" was the last movie reviewed on "Siskel & Ebert" before Siskel died). 2002's "Bloody Sunday" made a bigger international splash than anything he'd done before, Tony Gilroy told Matt Damon to watch it, and the rest is history.
Greengrass is now rewriting history on-screen. Embodying the "one for them, one for me" ideal like none other, Greengrass followed up "The Bourne Supremacy" with "United 93," and "The Bourne Ultimatum" with this Friday's "Green Zone." Two action blockbusters, two Politically Serious films: what could be wrong with that? Plenty.
In an interview with Andrew L. Urban, Greengrass described the main message of "United 93" — a total gut-punch, but a seemingly pointless one — as "what the fuck are we going to do about it?" By most reliable accounts, "Green Zone" knows exactly what to do about it, which is to claim a top-down conspiracy of Good vs. Evil. I doubt anyone will top the New Yorker's Anthony Lane's line that it is "a left-wing movie that looks and sounds like a right-wing one."
That's a first for Greengrass, whose ambivalence was previously overpowering, often productively. On "Bloody Sunday," the stated goal was "to make a film where at the end of it we could all say, yes, it must have been a bit like that." But tying together all of Greengrass' work of a decade is that shaky-cam, which yields mixed aesthetic results but always implies the same thing: what you're watching is real.
That's a standard mockumentary trope, but it has the weird side-effect of equalizing Matt Damon on the run and 9/11. That makes me queasy, and it's not just motion sickness. Whether Damon is realistically fleeing fictional CIA overlords or in search of The Truth About Iraq makes no difference (and when "Green Zone" gets into dubious conspiratorial territory, that goes double). Building up off "United 93″'s almost impeachable veracity, now we have… this. Let the games begin.
[Photos: "Green Zone," Universal, 2010; "United 93," Universal, 2006]