"Greenberg," a W.C. Fields for our time.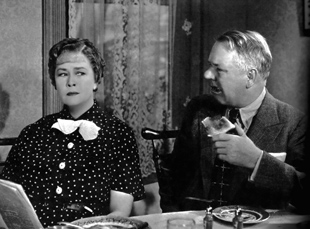 Posted by Vadim Rizov on
He called himself "The Great Man," and — especially in the '30s — W.C. Fields was just that. In a series of misanthropic comedies, Fields repeatedly professed his dislike of children and wives and his love of booze. There was more to him than that, of course — 1934's "The Old Fashioned Way" is a rare tender crack in the facade, and one of his best vehicles — but that's who he was on-screen most of the time, and audiences loved him for it.
He was, in short, an "asshole." As is Ben Stiller's "Greenberg," in the charge most commonly levied against Noah Baumbach's fantastically empathetic portrait of the misanthrope as self-defeating, self-depleting maniac. There are meaningful differences, of course: the contours of Fields' movies always put him in the right, the lone sane voice in a wilderness of ninnies and hysterics.
This isn't how "Greenberg" works. As in "The Squid and the Whale" and "Margot At The Wedding," Noah Baumbach isn't inviting us to titter in approval — something that should've been obvious to most viewers. And yet there are complaints left and right that we're being invited to watch someone so repugnant he isn't worth the time of day. Which isn't right.
The real Fields wore himself out: his nose got bigger and redder, the DTs started kicking in, and he died of a stomach hemorrhage at age 66. "Greenberg," it's true, is softer: Stiller does not look like he's been knocking back the whiskey as often as he does on-screen. Much of what he says is biliously hilarious — but almost all of it is bilious, if not outright hateful.
But there's no indication that we're supposed to admire this or adopt his worldview; to anyone that's not an angry teenager, it's perfectly obvious what's going on here. Much of the critical response, though, proves something else entirely: the role of beloved curmudgeon simply isn't an option anymore in America. You have to undercut it with an essentially good-natured vigor (like Vince Vaughn) or really commit to it in such a way that you go from making people uncomfortable to just shocking them into laughter (like a lot of Billy Bob Thornton's grumpy roles). But try to empathize with the asshole (even as you acknowledge he sometimes has a point), and watch out.
[Photos: "The Man on the Flying Trapeze," Universal Home Entertainment, 1935; "Greenberg," Focus Features, 2010]