Resurrecting "The Great Mouse Detective."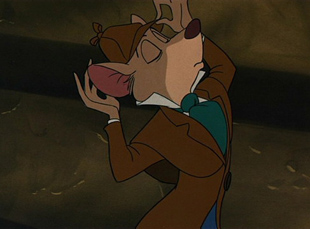 Posted by Vadim Rizov on
When Tim Burton arrived at Disney in 1979, fresh out of CalArts, he was put to work on 1981's "The Fox and the Hound," one of the more forgettable films of the Disney cel animation era. It was rough for him: working on a story he had no connection to, thematically or visually, he ended up sleeping 14 hours a day, sometimes sitting in a closet or under his desk to avoid seeing anyone.
It's a neat metaphor for how Disney's animation department was beginning to feel. The new documentary "Waking Sleeping Beauty" is dedicated to untangling the corporate rivalries and in-fighting that got Disney out of its animation slump and into the so-called Renaissance era of "Beauty and the Beast" and so on. By the time that had happened, of course, Burton was off and running — given the freedom (in a what-the-hell kind of spirit) to experiment within the studio with "Vincent" and "Frankenweenie," he began his career. By 1985, he'd knocked "Pee-Wee's Big Adventure" out of the park.
He should've stuck around a little longer. In 1986, Disney released "The Great Mouse Detective," the most unfairly forgotten and mischievous movie that isn't among the accepted childhood classics. A surprisingly meticulous Sherlock Holmes pastiche with mice instead of men, it was bright, witty and decidedly averse to the kind of saccharine instincts that were driving Burton off the wall.
In the first minute, it might be tempting to run screaming — father and "adorably" squeaky and breathy daughter bonding in poverty, a sort of sub-Dickens sentimentalization of poverty — but just wait. Not two minutes in, a toothy rat with dragon-size teeth rears its ugly head and makes off with the father. It's a genuinely freaky moment, and from there on "The Great Mouse Detective" lightly plays for keeps, producing as precise a pastiche as you could wish for while still hitting the kiddie-film marks.
But what really makes you regret that Burton didn't stick around to work on it is the presence of Burton's personal god Vincent Price as "Professor Rattigan" — as showy a camp part as he ever had, but appropriate for children. (He sings. Twice.) If "Vincent" was the unlikely Disney tribute to Price as icon, "The Great Mouse Detective" is an even more unexpected homage to someone whose iconic status would normally be too adult for the Disney studios. (Price even gets to keep the same cigarette-holder as "Vincent," something that would never happen now but the crowning touch.)
It's proof that even in a time written off as a slag-heap — one now being raked up in an inside-baseball documentary — work was being produced as iconoclastic as anything in the company's history. And, dare we say, more so than anything Burton's attempted lately. The convergence would've made sense for once.
[Photos: "The Great Mouse Detective," Disney, 1986]