A post-Bigelow check-up on gender relations.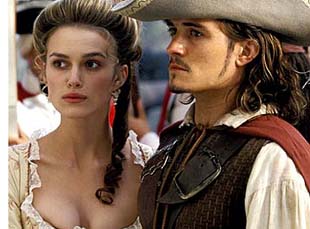 Posted by Vadim Rizov on
This week, Ludacris has the number one album in the country: "Battle of the Sexes", a title which seems eminently appropriate. Not that gender representation on-screen has ever gone uncontested, but everyone seems particularly punchy after Kathryn Bigelow's victory — an unfortunate side-effect of which will be designations like "Britain's Bigelow," applied by the Telegraph to director Susanna White. I'm not sure Bigelow ever signed on to be synonymous with a female breakthrough in film, but by God she will be from now on.
The New York Post brings us a disturbing but hilarious casting call notice for "Pirates of the Caribbean: On Stranger Tides," which specifies "Must have real breasts. Do not submit if you have implants." There'll be a jog-around-the-track test, a sleazy process I've heard of happening in LA in, like, the 1970s (at a time when such things were somehow culturally acceptable). This a rare public profession of unregenerate sexism. The reason? "Times are changing," a casting agent says, "and the audience can spot false breasts." Has Disney been reading about the problems with HD porn? Do audiences really care that much?
The confused responses to Bigelow's movie (and often didactic debates about what being a "female director" could mean in pure screen language, and whether or not she was a "masculine" director and so on) co-existed with people frequently blurting out repeatedly, as if helpless, how good Bigelow looks at 58, as if she could be our new Sophia Loren. (Fact: she's a former Gap model.) The "Caribbean" crew was more overt about how important it is.
At least we can all agree that when it comes to women on film, both genders are — even against their well — drawn to comment on their looks, forming a clear hierarchy for how to evaluate female celebrities; most spite is directed there. By contrast, all that anyone can seem to agree about regarding men on-screen is that they're in a hell of a mess; character attacks are rampant.
Such, for example, is the substance of Jessica Grose's vitriolic analysis of "Greenberg" in Slate as everything wrong with the contemporary "masculinity crisis." "The omega male doesn't have the power to reject anything — he's the one who has been brushed off," she hisses. "The image of the American woman has gone through several upheavals since the 1950s, but the masculine ideal seems fixed in cultural aspic: Think slick ad executive Don Draper in 'Mad Men'."
Really? Isn't Don cool precisely because he's a cultural anachronism (in the process, presumably, of becoming a modern guy)? Because the one thing a right-wing site like Big Hollywood and leftwing bloggy types like Defamer can agree on is that the contemporary "metrosexual"/"gangly manboy" is a blight upon film, denying us the comforts of good old-fashioned masculinity — so much so that we must import our he-men (like Gerard Butler or Russell Crowe) from abroad. It's all a mess: either they can't handle themselves or they're regressive.
Still, I prefer Richard Brody's calm overlook in the New Yorker of all the fighting, reminding us that "adulthood" as a definable has undergone steep revisions for both genders over the last forty years. For all the fighting, it breaks down less along the obvious lines of sexual politics (though it frequently does, albeit sometimes inextricably linked with personal griping) than along generational faultlines that are still being redefined. Phew.
[Photos: "Pirates of the Caribbean: The Curse of the Black Pearl," Disney, 2003; "Mad Men," AMC, 2007-present]