"Game of Thrones" gets HBO greenlight, author does Peanuts song & dance.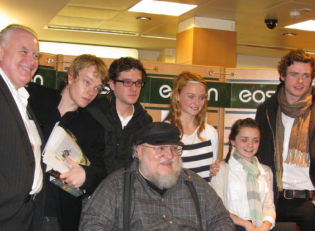 Posted by Brandon Kim on
HBO gave the greenlight to the highly anticipated "Game of Thrones" series, which will surely take its place next to "True Blood," and "Rome" and "Deadwood" before it, as some of the best TV ever aired. Based on modern day J.R.R.Tolkien incarnation, author George R.R. Martin's colossal A Song of Ice and Fire series, begun in 1996 it's now four books and counting, with seven planned.
[Author George R.R. Martin (in front) with some soon to be famous cast of the forthcoming series. L-R: Ron Donachie, Alfie Allen, Kit Harrington, Sophie Turner, Maisie Williams, Richard Madden]
The series is an adult one, this isn't J. K. Rowling territory. It's more about intrigue and family, less about magic, and growing pains. It's also extremely violent and hugely sexed up – including many maidens barely any older than the Harry Potter crew in their first installment – hey, it's medieval.
The pilot and following nine episodes concern the first book in the series, with the near identical title, "A Game of Thrones." I presume following seasons will be based on the successive books, which was originally a trilogy, but since expanded into a full blown franchise with supplementary works, novellas and graphic novels, when Martin returned to it in 2005 releasing a fourth book and announcing three more.
The world of "Game of Thrones" is a somewhat familiar medieval one, set mainly on the continent of Westeros. There, great houses struggle for power and survival in a time when magic and dragons are extinct, forgotten by most. It is a place where a decade long summer threatens to give way to a winter that will last a lifetime. A great wall (reminiscent of Hadrian's wall in northern England) cuts off the frozen, northern wilderness from the "civilized" world and an old brotherhood, The Night's Watch, keep vigil there against the gathering gloom. While an ancient menace stirs with the coming winter, war finally breaks out among the houses of Westeros, after a lot of cloak and dagger, largely centered around the Stark family of Winterfell.
I await the line, "When you play a game of thrones you win or you die. There is no middle ground" threatens the beautiful Lady Cersei Lannister (Lena Headey, "300," "The Brothers Grimm") to Lord Eddard Stark (Sean Bean, LOTR trilogy) before a series of stunning edge-of-your-seat betrayals.
[A brother of the Night's Watch (played by Bronson Webb as Will) in "Game of Thrones" pilot. Shot on location in Belfast, Northern Ireland. Photo Credit: Helen Sloan/HBO]
The cast looks to be superbly done, having some intimate knowledge of the characters. Most notable, aside from the obvious Sean Bean, will be Peter Dinklage ("Nip/Tuck," "The Station Agent") as the dwarf, Tyrion Lannister – probably one of the most entertaining fantasy characters ever written. Also quite complex, like many of the characters, I trust HBO will give them the treatment they deserve in the long form, one of the many benefits of a series rather than a feature film. Hopefully someone with a good flair for menace scores this piece. Jeff Beal did a decent job on "Rome." I'd shoot for some Phillip Glass contributions. Frequent Tarantino collaborator, Mary Ramos, music supes.
More on the cast at THR.
The bearded and bespectacled, George R.R. Martin's blog response to the happy greenlight news was simply: