Eluvium, Portland heavy film score premiering at SXSW.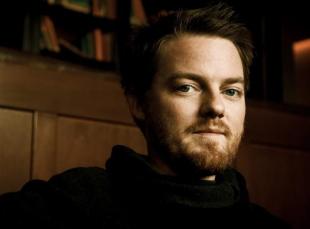 Posted by Brandon Kim on
Eluvium is Tennessee born Matthew Cooper, now an accomplished Multi-instrumentalist out of Portland known for his genre blending experimental music, thick with atmosphere. His new album, Similes, may be his most experimental yet, as it has him singing for the first time, after five instrumental albums.
[Matthew Cooper, aka Eluvium. Photo by Noel Javier for NPR]
Cooper, seemingly influenced by equal parts Philip Glass and Brian Eno also created the film score for "Some Days Are Better Than Others" which will have a world premiere at SXSW later this month. It stars Carrie Brownstein, of (now disbanded) Sleater-Kinney and James Mercer, best known as front man of The Shins, in the two lead roles.
That's a lot of Portland music scene all in one package. Adding to it, the director is Portland's Matt McCormick, helming his first feature after cutting his teeth on music videos and a ton of shorts. He also shot this "The Motion Makes Me Last" Video for Eluvium, off of the new Similes record.
Eluvium on Temporary Residence Limited.
MP3: "The Motion Makes Me Last."