In search of "The Girl With the Dragon Tattoo."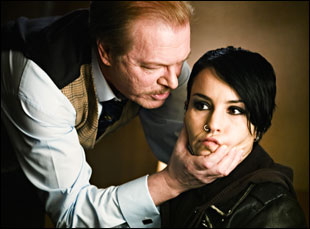 Posted by Alison Willmore on
Reviewed at the 2010 SXSW Film Festival.
Lisbeth Salander, the heroine of Stieg Larsson's internationally bestselling "Millennium" trilogy, is an impossible, irresistible figure of fiction. A tattooed, pierced, brilliant, bisexual hacker with Asperger syndrome and an eidetic memory, Salander is something between cyberpunk superhero and avenging feminist angel. Battered by life and, more pointedly, by flawed bureaucracy — Salander is a ward of the state, declared incompetent to manage her own affairs without the oversight of a guardian for reasons unexplained until the second installment — she never fails to have her revenge on anyone who sees her as a potential victim.
Those people are, invariably, men. "The Girl with the Dragon Tattoo," the first book in Larsson's trilogy and the source material for Niels Arden Oplev's workmanlike film adaptation, has a Swedish title that translates to the far blunter "Men Who Hate Women." It's technically a murder mystery, an investigation into the disappearance of 16-year-old Harriet Vanger 40 years ago from her wealthy family's island compound, but it's just as much the story of how the abused, asocial Salander is lured in like a gone-feral housecat by Mikael Blomkvist, disgraced journalist, the only man in her life who she can't run circles around, and a fanciful character in his own right.
The popularity of Larsson's trilogy — the final installment of which isn't coming out until May 25 in the U.S. — explains why Swedish production company Yellow Bird Films adapted all three parts in one fell swoop, with Niels Arden Oplev directing this first installment and Daniel Alfredson the second two. It also explains why Oplev and screenwriters Nikolaj Arcel and Rasmus Heisterberg take a cautious, "Harry Potter"-style approach to transferring their source material to the big screen, keeping close to the text, smoothing out a few extraneous narrative snarls and casting an able unknown, Noomi Rapace, as their beloved protagonist. The sinewy Rapace is able to get a lot out of her glare, which is good, because Salander isn't much of a talker, and she doesn't actually meet up with Blomkvist (played by an amused Michael Nyqvist) until the film's halfway mark.
The reason is that, plotwise, "The Girl with the Dragon Tattoo" still has way too much ground to cover. Crammed into that first hour (the film come in at just under two and a half) are the initial scandal that results in Blomkvist resigning from his magazine, Millennium, after being sued for libel; the reveal that he seems to have been set-up; the introduction to the Vangers, an aristocratic den of snakes; the background on Harriet, who turns out to have childhood tied to Blomkvist; Salander's battles with a new, vicious guardian.
Really, these are just hurdles to be leaped on the way to uniting Salander and Blomkvist, the hacker punk and the boy detective grown up (as evoked by Blomkvist's nickname, another of "Pippi Longstocking" creator Astrid Lindgren's characters). Together, the pair have a funny, bemused crime-solving chemistry — their strengths are in research, which makes this the rare thriller content to have much of its drama involve someone hunched over a laptop. The film, thankfully, slows down to savor Salander and Blomkvist's strange relationship, the side-effect of which is the feeling it would be a better pilot for a (non-existent) TV show than a stand-alone feature.
"The Girl with the Dragon Tattoo" takes place in what at times feels like a wintry alternate universe where every other person in a place of power is revealed to be a secret sadist, neo-Nazi, crook or serial killer beneath a respectable surface. Larsson, a radical journalist who devoted his career to battling right-wing extremism, and who died in 2004 at age 50 before any of his novels were published, has a mercilessly grim view of corporations, his country's past and, in general, authority figures. Tempering that is a quixotic faith in the power of documentation — all it takes to vanquish a teeming substratum of corruption is exposure to the light of day in a feature in a magazine.
A final note — neither of the sequels "The Girl Who Played with Fire" and "The Girl Who Kicked the Hornet's Nest" yet have U.S. distribution, possibly because of a planned American remake. Never mind — Music Box announced in late February that they'll release the other two films in the trilogy this summer. Screenwriter Steven Zaillian is attached to work on the U.S. adaptation.
"The Girl With The Dragon Tattoo" will be released by Music Box Films on March 19th.
[Photos: "The Girl With The Dragon Tattoo," Music Box Films, 2010]