A decade with Michael Douglas.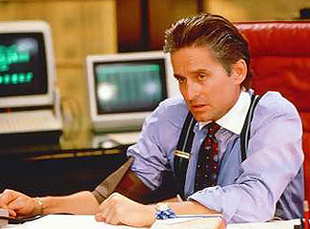 Posted by Vadim Rizov on
Evgenia Peretz of Vanity Fair wins the prize for funniest parenthetical of the week. In her profile of Michael Douglas, dwelling on the actor's 1987 annus mirabilis, she drops this: "he came at audiences with the one-two punch of 'Fatal Attraction' and 'Wall Street'–which have come to define the decade (note the sushi cameos in both)."
Ah, to imagine a time when sushi wasn't so ubiquitous as to be in every last college town and plenty of supermarkets. Not that Michael Douglas was the first person to use sushi as a class signifier — Molly Ringwald brought her sushi and chopsticks to detention and to the mainstream moviegoers in "The Breakfast Club" two years earlier. Things have changed: between 1988 and 1998, the number of US sushi bars increased by 400%. I like how Peretz reminds us how what was once a marker is now commonplace.
Contrast that with the hilarious but ham-handed gag in the "Wall Street: Money Never Sleeps" trailer, where Douglas' no gigantic '80s mobile phone tells us exactly how long he's been in jail. I hope they revisit the sushi bar so that Douglas can splutter in outrage at the visiting plebeians.
As the VF article points out in passing, Douglas had a remarkable string of hot-topic roles for roughly a decade, bookended by two dickish millionaire types: Gordon Gekko in 1987, Nicholas van Orton in 1997's "The Game," which basically redeemed his entire persona. In between, Douglas went to Japan in 1989's "Black Rain," implicitly addressing fears of a Japanese takeover of American business à la Michael Crichton in "Rising Sun," who Douglas would hook with for 1994's "Disclosure," where the sexual-harassment-lawsuit hysteria effectively peaked.
And let's not forget "Falling Down"'s depiction of White Rage or "The American President"'s embodiment of mid-90s Clintonian liberalism, with plotlines about gun-control bills and its production help from Bill Clinton. ("The American President"'s website still lives, by the way. You'll need Netscape 1.1 for optimum results! I recommend the crossword puzzle.)
In passing, let's note that recreating the '80s on screen is far more than just funky hair-dos or the donning of a pager. There's a whole language of screen conventions. I'm not the world's biggest "American Psycho" fan, but there's one small moment in there that just kills me. In an establishing shot of downtown, we get one of those indelibly smarmy helicopter shots flying through the overwhelming skyscrapers of Big Business — soundtracked to "Walking on Sunshine." That says '80s to me more than any Huey Lewis monologue ever could.
[Photos: "Wall Street," 20th Century Fox, 1987; "Falling Down," Warner Bros., 1993]