Seven actors who deserve better.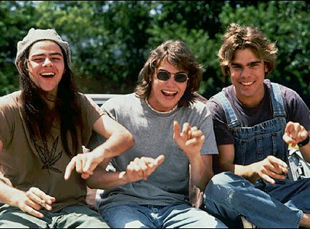 Posted by Vadim Rizov on
We've all had this experience before — you go to a movie and an actor you've never heard of totally blows you away.
You expect to see more of him or her, then years go by and you see the movie again on TV and realize you have no idea what happened. (Like, say, almost everyone in "Dazed and Confused.") This happens all too often — here's a just-barely-scratching-the-surface list of seven performers of recent years who deserve better than their current career purgatories.
Paul Bettany
For a little while, Paul Bettany's career was going in a direction that made sense. He played straight man to Russell Crowe in "A Beautiful Mind" and "Master and Commander: The End of the World." They had an easy, unforced chemistry that suggested years of companionship. Meanwhile, on his, own, Bettany entered the American cinema naked in "A Knight's Tale" and was suitably supercilious in "Dogville." But for some reason, shortly thereafter Bettany's career went to hell — January 22 saw the simultaneous release of "Creation" (about Darwin) and "Legion" (theologically fuzzy archangel brawl), two equally defective sides of the religious debate. Next down: "Priest," with Bettany tracking down vampires. Lesson learned: dramatic failure equals semi-religious fanboy resurrection?
Winona Ryder
Once, Winona Ryder made a tacit deal with the American public to be the go-to alterna-chick, embodying all layers of the high-school strata from pissed-off goth ("Beetlejuice") to perky cheerleader queen ("Edward Scissorhands"), with stops at "Heathers" and "Mermaids." She also tried to sum up Gen X's ambivalence in "Reality Bites" and auditioned with Salinger monologues; she was alienated slacker America. Eventually she drifted from weak, personality-suppressing parts ("Mr. Deeds") to non-entity indies ("The Darwin Awards"). Despite a strong turn in "A Scanner Darkly," her cameo as Spock's mom in "Star Trek" was mostly disorienting. That Darren Aronofsky promises to do (with the upcoming "Black Swan") for her what he did for Mickey Rourke's career speaks volumes about how fast she fell, and how unjustifiably.
Thora Birch
Like fellow "American Beauty" co-stars Wes Bentley and Mena Suvari, Birch's rise and fall from prominence went by shockingly fast (though at least, unlike Bentley, she didn't succumb to crippling heroin use). Dark and poised, Birch's flawlessly bratty turn in "Ghost World" should've assured her place on the A-list. Instead, she ended up in "Dungeons & Dragons" and has appeared in two Lifetime movies. (One possible reason for her career problems: her dad, who… well, just read it.) Her appearance in the 2002 Moby video below ("We Are All Made of Stars") reminds us of a time when people could recognize Kato Kaelin on sight, and Thora Birch was right on par. But hey, Dave Navarro's still with us!
Thomas Haden Church
Long-suffering comic trooper Thomas Haden Church has been doing yeomen work for a long time now — six years on the sitcom "Wings," consistent hilarity regardless of how shoddy the vehicle ("George of the Jungle," "All About Steve," "Imagine That"), injecting real pathos and humanity into places where it was unwelcome ("Spider-Man 3"). He's even briefly done the awards-season comeback/reinvention ("Sideways"). Despite this, it seems that Church's mellow but surprisingly versatile overgrown-blowhard act — Ron Burgundy without the non sequiturs — keeps getting written off as not that valuable. But he's the real thing and deserves better — let's see if his starring turn in drama "Don McKay," due out next month, will do anything for him.
Julia Stiles
The formidably severe Julia Stiles co-starred alongside Joseph Gordon-Levitt and Heath Ledger in 1999's "10 Things I Hate About You," an effective above-average teen movie; both would eventually surpass her, which isn't fair. Stiles knows how to be funny without ever breaking her frown, an asset that served her well; whether drunk booty-dancing or embodying Ophelia in the 2000 "Hamlet," it worked. (That her dream in "10 Things" was to go to Sarah Lawrence was right on.) Then what ("Save The Last Dance" aside)? A series of uncomfortable romantic movies — "Mona Lisa Smile," "The Prince & Me," "A Guy Thing" — and undistinguished "Bourne" supporting parts. That said, casting her as the lead in an upcoming "The Bell Jar" adaptation makes sense — sadly, since it's effectively a caricature of her range.
Seth Green
In some ways, Seth Green's career thrives — he created "Robot Chicken" and is the voice of "Family Guy"'s Chris Griffen, thereby assuring himself a firm place in the consciousness of stoners anywhere. Indeed, with his parts in the "Austin Powers" films and on TV's "Buffy the Vampire Slayer," Green's well known to the two split halves of a generation. But — despite a terrific supporting turn in the worth-watching "Can't Hardly Wait" and a credible sub-"Ocean's" turn in "The Italian Job" — Green's increasingly sporadic ventures into live-action film are unfailingly dismal ("Without a Paddle," the "Scooby-Doo" movies, "Sex Drive" and, most recently, "Old Dogs"). Live-wire supporting comics aren't as plentiful as they seem — and Green, with his running start in "Radio Days," should've been a shoe-in.
Elizabeth Banks
Though Elizabeth Banks is seemingly a generically pretty blond, to be slotted alongside Katherine Heigl, she's got a distinctive personality — she played both Laura Bush and Paul Rudd's long-suffering girlfriend ("Role Models") in the same year, which are two different kinds of masochism that she successfully differentiated. But more commonly she's stuck playing the boring blond, a waste of sharp timing that can be successfully applied to comedy or drama. Her comedic abilities seem thought-out rather than instinctual, and that can be an asset (as when outdoing Seth Rogen in "Zack and Miri Make a Porno").
[Photos: "Dazed and Confused," Universal, 1993; "Master and Commander: The Far Side of the World," 20th Century Fox, 2003; "Heaters," Anchor Bay Entertainment, 1988; "Ghost World," MGM/UA, 2001; "Hamlet," Miramax, 2000; "The Italian Job," Paramount, 2003; "W.," Lionsgate, 2008]