Rob Zombie's "CSI: Miami" episode.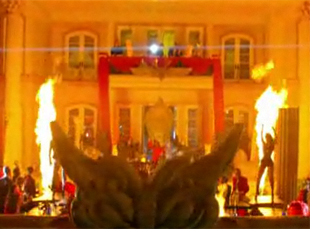 Posted by Vadim Rizov on
While never a fan of Rob Zombie's music, based solely off "The Devil's Rejects" I have no choice but to take him seriously. He hasn't delivered since, but the man has an original voice and is one of the few causes for hope about contemporary horror.
So I was curious to see what Zombie would make of "CSI: Miami" — he directed an episode that aired on Monday.
By all accounts, Quentin Tarantino's "CSI" Vegas episode was distinctively his, though he co-wrote the story. Here, though, Zombie's a hack for hire, his goal, he told the New York Daily News, only to "see what it was like" and make something his mom could enjoy for once.
The result, all round, is pretty weak fare. I'm not a regular viewer of "CSI" in any of its incarnations, but the last time I tuned in someone quite casually used a hand-controlled missile launcher. That's just how things happen in Jerry Bruckheimer's world.
Zombie's episode ("LA") has none of the casual flamboyance you'd expect from when Bruckheimer meets Zombie — for the most part, it's awfully pokey. The plot's a bit of nothing — we already know whodunnit from the start, and the main focus is on clearing the name of Jesse Cardoza (Eddie Cibrian), which involves flying to LA and dealing with his old police position. To be fair, LA's a better fit for Zombie than Miami: he gets to deploy both "California Dreamin'" and "California Über Alles."
There are a few reasons to slog through this if you're a Zombie fan. Most of the Zombie regulars you'd expect to guest star do indeed show up — Sheri Moon Zombie, William Forsythe, ZZ Top's Billy Gibbons, plus Michael Madsen, who hasn't worked with Zombie before, but is a perfect fit and seems to be making up all of his own dialogue (I especially liked it when he told a cop he thinks is short who claims to be 5'9″ that "My pants are 5'9!"). You'd think David Caruso — who's never been afraid to play the fool before — would camp it out, but he's oddly restrained this time. The flamboyant slack is taken up by Malcolm McDowell and Madsen, who basically walk away with the whole episode.
But the real reason to watch are the unbelievable opening five minutes, which could be identified as Zombie's without any names attached. It's a rape-murder, and — with the use of some near subliminal, tricky shots and editing — he basically shows you the rape, on network TV, with extreme artfulness. All this while "Nosferatu" is playing in the background, which Zombie (film scholar that he is) keeps cutting to. It's some of his finest work to date.
You can watch the episode online at IMDb here.
[Photos: "CSI: Miami," CBS, 2010]