Coming soon to IFC: David Cross, The Onion, the Kids in the Hall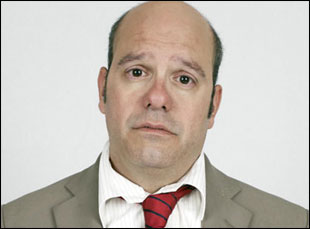 Posted by IFC on
We're beaming like proud parents because we get to announce our new programming slate today, and it is, if you don't mind our saying so, pretty excellent.
First up, we have "The Increasingly Poor Decisions of Todd Margaret," a comedy series that stars David Cross and Will Arnett in their first project together since "Arrested Development." The show follows the misadventures of Todd Margaret (Cross), a corporate nobody and pathological liar who unexpectedly finds himself running his company's London office. Assigned by his blowhard boss (Arnett) to launch a new (and terrible) energy drink, Todd is quickly in over his head, knowing nothing about British culture… or sales. Spike Jonze and Amber Tamblyn are slated to make special guest appearances. "The Increasingly Poor Decisions of Todd Margaret," a six episode series that was also created and written by Cross, will air in the fall of this year.
In early 2011, we'll be showing the "Onion News Network," the first television series based on everyone's favorite fake newspaper and web series. "Onion News Network" will be a weekly report of nonsensical news, hilarious headlines and over-the-top debates between the show's anchors and guests.
And that's not all — we've acquired "Kids in the Hall: Death Comes to Town," an eight-episode "Kids in the Hall" reunion series debuting in August. Dave Foley, Bruce McCulloch, Kevin McDonald, Mark McKinney and Scott Thompson reunite for a comical murder-mystery show in which they'll play nearly all of the 20 new characters, including a Grim Reaper called, of course, "Death." When the mayor of Shuckton, Ontario is found murdered, everyone in the town is a suspect. When an arrest is made and the trial plays out, the entire town is affected and its dark secrets are unraveled and exposed.
And we can't forget "Dead Set," a satirical zombie horror series that takes place on the set of the U.K.'s "Big Brother" house and that will air October 25-29. During eviction night on "Big Brother," zombies emerge and begin attacking humans. Meanwhile, the remaining housemates are clueless as to what's happening outside their four walls, and are unknowingly kept safe from the chaos that's erupted on the streets as the undead make their way into the studio only feet away. One of the show's crew members, Kelly, is able to escape and make her way into the house to alert the cast. Will they make it to safety without being bitten?