Chloë Sevigny Has a Case of the "Munday"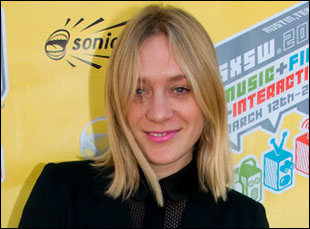 Posted by Aaron Hillis on
Downtown NYC cool kid-turned-actress Chloë Sevigny ("Boys Don't Cry," "The Brown Bunny," HBO's "Big Love") is well known for turning down high-paying roles in favor of the kind that simply appeal to her indie-arty sensibilities. Her latest project is writer-director Chris D'Arienzo's comedic feature debut "Barry Munday," making its world premiere at this year's SXSW. Patrick Wilson stars in the titular role as an oblivious, womanizing office drone whose life turns to shit after he wakes up in a hospital to find that he's lost his testicles in a brutal attack by a young girl's angry father. Making matters worse, he's slapped with a paternity suit from an equally angry frump named Ginger (Judy Greer) with whom Barry was too drunk to remember sleeping with.
In a scene-stealing supporting performance, Sevigny co-stars as Ginger's sister Jennifer, the "pretty daughter" who drives poor ball-less Barry crazy by trying to seduce him right under everyone's nose. Last weekend, I sat down with the ever-stylish Sevigny at the Four Seasons Hotel in Austin to talk about pole dancing, fashion and her other SXSW premiere, "Mr. Nice" — but before all that, I began with a standard ice breaker:
Are you tired of talking about yourself today?
I was tired of talking about me 15 years ago. [laughs] It's never been my strong point.
Have you eaten any Tex-Mex in Austin yet?
I've had a lot. I had a breakfast burrito this morning, actually, at Joe's. It was delicious. I could eat a million tacos. In New York City, there are no good tacos.
Agreed. So, how did you first get connected with this project?
My agent sent me the script. She was a big supporter of it and thought it was great. I read it, fell in love with the Ginger part and met with the director. He had a different person for Barry then, and they were considering me for Ginger, but then they lost their Barry. They got Patrick [Wilson], and then they needed somebody else for Ginger. Money reasons, I guess? Maybe they didn't think I was right, who knows? Chris [D'Arienzo] said, "What about the sister, Jennifer?"
We talked about Hal Ashby, about [Chris'] ideas for the film, the tone and the music. He was such a dynamic individual that I thought, "I want to work with this guy. I feel like he can make a great movie." I've worked mostly with writer/directors, and I've had a pretty good track record so far. I've been playing kind of the bitch on "Big Love," but in films, I'm more often the innocent one, or the one who gets put upon. So I thought I'd like to be the bad girl, the seductress. That appealed to me.
Why did you originally want to play Ginger?
Oh, come on, it's a great part and it's the lead. [laughs] There were so many interesting facets and nuances to the character — the ugly duckling [who is] comfortable being that, being undesirable. It would've been a completely different film with me in that part. I would've played it real real. [laughs]
Barry is such a clod. Why do you think Jennifer's trying to seduce him?
I don't think she's attracted to him. She just wants to know that he is attracted to her. She wants everybody to like her, and she wants to be everybody's favorite because she always has been. I don't think she would even act on it if something were to happen. She wants to know that he desires her, so she's going to flirt to no end just to make sure she knows she can get him. There's maybe a little [sibling rivalry], but you can see her love for Ginger.
With siblings, it is strange that you can love them and still be at odds with them.
I have a brother, believe you me. I'm not really allowed to be friends with his girlfriends anymore. [laughs] Well, I don't know — it's gone back and forth. He's blamed me for being mean to his girlfriends, scaring his girlfriends. I guess I'm a scary and powerful individual. I didn't always know that. So yeah, there is a bit of rivalry. Of course, him being a boy is a little different.
One throughline in your career has been provocative material. What draws you to audacious projects?
I guess it's just the directors. Lars [von Trier], of course, I'm a huge fan of. Harmony [Korine] was my boyfriend, or whatever. [laughs] It would be case by case. I don't think "Shattered Glass" or some of my films that are more conservative, like "Zodiac," are… well, I guess "Zodiac" is a little bit [provocative]. I make films that I'd want to see as a viewer. Those are the kinds I'm attracted to. Last year, "Hunger" was one of my favorites. Films like that are telling stories in new ways, pushing limits or challenging you. Those are the films I like to watch.
What have you watched and enjoyed lately?
I saw "Shutter Island." Surprisingly, I liked that. I'm not always the biggest Scorsese fan. [laughs] I haven't seen that much lately. Sorry.