Telling fact from fiction in "Children of Invention."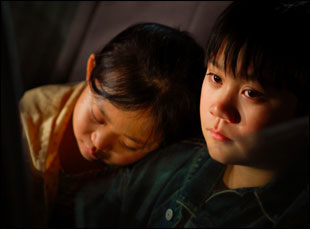 Posted by Alison Willmore on
Tze Chun's "Children of Invention," which opens in New York and Los Angeles today, is a deceptively small-scale tale of two kids forced to fend for themselves when their mother, a first generation Chinese immigrant, is nabbed for her involvement with a pyramid scheme. "Deceptive" because this isn't just another indie about abandoned children, something of a theme on the festival circuit in the past year or two. "Children of Invention" parallels the naïveté of its two underaged main characters with the strivings of their parent and others who get pulled in to the scam, lured in by the promise of instant financial success and the American dream.
Here's Chun speaking for himself on the film, which was inspired by his children:
In making "Children of Invention," I wanted to tell a story about children that wasn't necessarily from a child's point of view. I suppose it falls into that sub-genre of movies that are about children but are intended for adults. I hesitate to call these my influences, because these films are so unbelievable that it's embarrassing to compare myself to them, but here goes: Bergman's "Fanny and Alexander," Mira Nair's "Salaam Bombay!" and Edward Yang's "A Brighter Summer Day." During pre-production, everyone told me to watch "Nobody Knows" — which is superb.

In my film, Raymond (Michael Chen) and Tina (Crystal Chui), two young children living outside Boston, fend for themselves after their mother is arrested for taking part in an illegal pyramid scheme. The film is based in part on my own childhood — my mom even helped actress Cindy Cheung (who plays Elaine, the mother in the film) improvise the pyramid scheme pitch scenes, and my little sis stood on "blanket watch" for seven year-old Crystal in case she got cold during any exteriors.

I wanted to show the effect of the adult world on children, and children's ability to convince themselves that something that is not real actually is. There's a number of vérité-style dream sequences in the film — it was important to me to not film these sequences through some kind of "dream" filter.  As the kids in the film progress through their journey, they convince themselves that their dreams can become a reality, ignoring all common sense, and I wanted to show these two worlds bleeding into each other.

It's pretty easy to make a statement like "Kids can't tell fact from fiction."  But I would argue that it's something that's endemic to all human beings. People convince themselves of things that aren't true all the time. All Raymond and Tina are doing in the film are mimicking what they've seen. The adults in their world, people who participate in these pyramid schemes, have convinced themselves that something that's too good to be true is actually not. It's a blue-collar version of everyone who looked at Bernie Madoff's returns and were like "sure, that sounds about right."

I didn't foresee the current financial crisis when I was shooting "Children of Invention." When I wrote the film in early 2008, I was writing a personal story about the world I grew up in — a subculture of Americans trying to get rich quick in order to get themselves out of a financial hole.  But with the current economy and foreclosures going through the roof, it seems like everyone's living through some version of what the Chengs go through. I hope this film can be a reminder that we've had bad times before, individually and as a country, but we've always made it out fine. America is a melting pot.  It's made up of immigrants who are, by the nature of their journey here, survivors.  It's what we're best at, and it's what we'll continue to do. 
Tze Chun's "Children of Invention" will open theatrically in New York and Los Angeles on March 12, 2010.
[Photos: Michael Chen and Crystal Chiu in "Children of Invention," Syncopated Films, 2009; the director and his sister in 1988]