Charlotte Gainsbourg's album rocks, NA tour announced.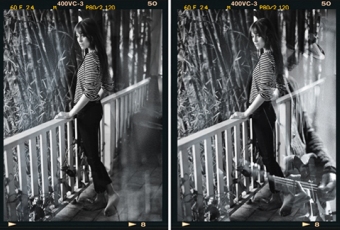 Posted by Brandon Kim on
French actress Charlotte Gainsbourg ("Jane Eyre," "Antichrist") has been one of my favorites since "The Little Thief" (1988). More recently I've appreciated her sensuous music, though she's been singing as long as she's been acting, her 2006 album 5:55 was the only serious effort since her notorious childhood.
I liked 5:55, but her new album IRM rocks and that's not something I expected from this soft spoken beauty whose vocal style is similar to her mother's. If Jane Birkin's vocals were soft, Charlotte's are whispers. Sweet, sultry nothings. Until now.
There's still trademark Charlotte sounds but she branches out here with Beck producing. It's all quite a bit more accessible and fun, if less hot and bothered.

Charlotte Gainsbourg, "Me and Jane Doe"
A tour was announced today that will take the talented actor chanteuse around North America:
4-11 Vancouver, British Columbia – Vogue Theatre
4-12 Victoria, British Columbia – Alix Goolden Hall
4-14 Seattle, WA – Crocodile Cafe
4-15 Portland, OR – Wonder Ballroom
4-17 San Francisco, CA – Palace of Fine Arts
4-18 Indio, CA – Coachella
4-21 Chicago, IL – Park West
4-23 Montreal, Quebec – Olympia
4-24 Montreal, Quebec – Olympia
4-25 New York, NY – Webster Hall
Dig this performance of the song "Trick Pony" on Letterman… who didn't seem to know who Charlotte was, how disappointing. This Wolfman rips it. Wolfman's got nards.
Sources Pitchfork and CharlotteGainsbourg.com

More Charlotte IRM on Indie Ear.
Serge Gainsbourg biopic here.
Beck and Gainsbourg "Heaven Can Wait" video here.