Carrie Brownstein, From Sleater-Kinney to NPR to Movie Star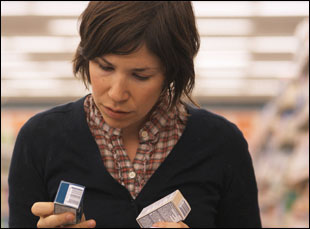 Posted by Michael Hoinski on
Carrie Brownstein ought to write a movie about rock and roll. She's played guitar for the eminent rock band Sleater-Kinney. She has a music blog on NPR.org called Monitor Mix, and has also written for Slate and the Believer. And she's acting in her first feature-length film, "Some Days Are Better Than Others," which premiered Sunday here at SXSW. In the film, directed by Matt McCormick, she stars alongside fellow Portland musician James Mercer, formerly of the Shins and currently of Broken Bells, this year's featured band at SXSW. Her double duties at this year's fest — as an actor and as a curator for NPR's showcase — have her feeling invigorated. Over the phone from a hotel room in Austin, Carrie recounted Sunday's cringing movie-viewing experience, broke down her transition from musician to writer, and hinted at a Sleater-Kinney reunion as but one of her near future musical endeavors.
"Some Days Are Better Than Others" premiered Sunday. How was the reception?
I think it was good. It's really hard for me to be objective about the film. I spent a lot of time with my head in my hands and my fingers in my ears, trying not to hear my voice. So I've only seen certain parts of the movie. I felt like at the end of the screening it was just like I was taking my first breath.
I've seen the trailer. Everybody in it looks pretty sad and adrift. What's the storyline?
It is a story of sad and adrift people. But it's also a lot about — whether it's people or objects or cities — things that are no longer needed or wanted. There was a lot of sadness and embarrassment the very beautiful summer of 2008, having to cry for many months as my character.
Tell me about your character.
I play Katrina. She's probably in her late 20s. She lives in Portland. She recently was broken up with by her boyfriend, who she caught cheating, so she feels discarded in that way. What she wants more than anything, in this highly voyeuristic society, is a witness to her pain. She feels like the way that her sadness can be validated is if she can somehow get on some sort of reality TV show — like any kind of reality TV validates all sorts of ridiculous emotions, and heightens them — so even though she's sort of the smarter, creative, kind of quirky person and sees through reality TV, all of a sudden, she becomes obsessed with that as a stage for her sadness.
How does James intertwine with your character?
He plays my roommate, and another lost soul, who's living the prolonged adolescence typical to cities like Austin and definitely Portland, where you can carve out an existence that has nothing to do with adulthood. But then, of course, that becomes its own form of alienation after awhile.
Are you ready to act again if the opportunity comes up?
I think so. I do these comedy shorts with Fred Armisen from "Saturday Night Live," and I think I might prefer the more kind of nimble and spontaneous nature of 1) doing shorts and 2) doing improvisation. It mirrors my approach to music a lot more.
You had not one but four stories in the "Best Music Writing" anthology that Greil Marcus put together. How'd you transition so smoothly from playing music to writing about it?
I think a common thread in my life before I was in a band and when I was young was that writing always was something that was important to me. I'm a huge reader. And during my time in Sleater-Kinney, I was always the one asked to provide the added commentary or analysis. Occasionally, publications would ask me to write something, like a tour diary, and that led to essays. When the band ended, I felt like I wanted to pursue that more wholeheartedly. It might from the outside seem like the band ended and then I picked up a pen and started writing for NPR, but it's something that I've worked on for a lot of years.
Are you missing playing music?
I am. And I just started a new band after taking many much-needed years off from playing. I can't really talk about it that much, but we have seven songs, and there are four of us, and we're based in Portland — but not all of our members live there.
Can you give me any clues?
I can tell you that Janet Weiss from Sleater-Kinney is also in it.
I've been listening to Janet's new Quasi album nonstop.
Oh my God, that Quasi album is unbelievable. It just comes through like a chainsaw. Every other album is just being totally chopped down right now.
When am I going to get to hear a new Sleater-Kinney album?
Well, Janet, Corin and I are still great friends. And we will probably do something. It's so intense, that band.
People love that band.
We spent 11 years committed to that band, heart and soul. To get back into it we have to be in that place where we can immerse ourselves fully. I think it will happen. We have to loop around, and we're at the far end of the circle, away from the band, but I think we will come back and revisit it. And hopefully that record will be sometime in the next five years.
[Additional photo: Brownstein and Janet Weiss during a show on the One Beat tour]