Carla Gugino and Malin Akerman heat up SXSW with "Elektra Luxx"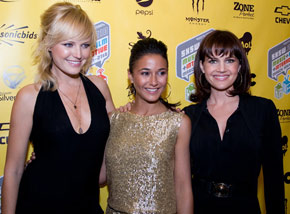 Posted by IFC on
They say the stars shine bright in Texas, but nothing was shining quite as brilliantly as the stars of "Elektra Luxx" at the film's SXSW premiere. Carla Gugino, Malin Akerman and Emmanuelle Chriqui joined director Sebastian Gutierrez for the event at 2010 SXSW Film Festival.
"Elektra Luxx" is the sequel to Gutierrez's 2009 film, "Women In Trouble." The plot of this film continues the story of the titular porn star (Gugino) who discovers she is pregnant and how her life becomes intertwined with other individuals who are in a state of personal crisis.
Earlier in the day, the director and cast of "Elektra Luxx" stopped by the IFC Crossroads House to enjoy the amenities, play with the photo booth and chat with IFC News host Matt Singer in a live webcast from our studio.
Click here to read the IFC.com review of "Elektra Luxx."
[Click the thumbnails to see the images full size.]