Bigger, shinier and in more dimensions.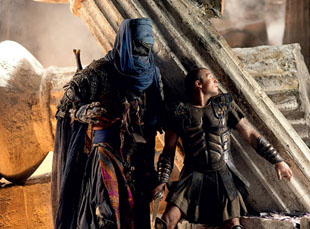 Posted by Vadim Rizov on
The movies are an appropriate obsession for a nation as in love with technology as we are here in the US. In their short lifetime, film has raced from silent, hand-cranked black and white shorts to sound, color, widescreen, CGI, home viewing, digital and so on: the relentless march of progress is something most people witness without even trying. Nothing is more generationally fragmented than the dominant characteristics of each decade's movies (and the changing ways we watch them).
But there's another side to this. The Playlist's Kevin Jagernauth notes with some cynicism the announcement that all future WB tentpole movies will be in 3D, probably converted from 2D footage to boot, beginning with "Clash of the Titans." For Jagernauth, the dividing lines are drawn between "savvy film fans" — who can pick up on a "cheap attempt at the format" like "Alice In Wonderland" — and the general audiences that "either can't tell the difference, or simply don't care."
In general, mass audiences are generally hoodwinked at one point or another by the technology that can get people excited. In 1953, "Shane" had been shot in the standard Academy ratio of 1.37:1 but was ad hoc cropped for a wider screen, beginning a long tradition of movies being projected in the wrong ratio. The 1.37:1 ratio (basically a TV-like square) needs a lens most theaters don't have anymore, which led to a lot of misprojected old movies.
The most egregious wrongs were done to "Gone With The Wind," which was first cropped a bit in 1954 and then, in 1967, blown up to 70mm at a very wide ratio that essentially lost half of the vertical visuals. Not until 1998 could the film be seen properly again. And if you're Gus van Sant and shoot a movie in 1.37 today ("Elephant," "Last Days," "Paranoid Park"), you'll still have to provide an alternate version for theaters that just aren't able to show your work as intended.
The emergence of video meant cutting all those movies back down to size, eliminating 2/3 of the picture. Most people, again, simply didn't care: they had a TV and by god, they wanted every inch of the screen to be used. Those who did care could howl about letterboxing all they wanted, but it never caught on with the public.
That is, until all of a sudden DVDs came out and HDTVs were wide and suddenly people were all about letterboxing and widescreen, since — again! — you can show off your TV better that way. The letterboxing party was unexpectedly victorious, but not because anyone still understood what an aspect ratio actually was (now you can occasionally hear of people grumbling about the way old movies are boxed in — "pillarboxing" — and they're not sure what's going on).
It's safe to say most viewers don't understand much about the technology they love, so there's no point in getting either worked up or surprised by shoddy 3D being pawned off and gratefully consumed. It's in the tradition of the technologies preceding it.
[Photos: "Clash of the Titans," WB, 2010; "Gone With The Wind," Warner Home Video, 1939]