The return of the Biblical movie?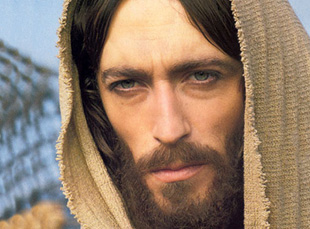 Posted by Vadim Rizov on
Over at the Guardian, Anne Billson traces how the Bible pops up repeatedly (if not always in a theologically approved manners) in apocalyptic/horror movies. Her argument is sometimes shaky — is Frank Langella in "The Box" really a Jesus figure? — but it's a useful way of drawing together different strains of religious horror from "The Exorcist" onwards.
Oddly, Billson completely ignores the Biblical epics Hollywood pumped out like so many slot-fillers from the '40s through the '60s, movies like "David and Bathsheba," "The Robe" (the first film to be shot in CinemaScope, no less), "Quo Vadis" and the literally titled "The Bible: In The Beginning" (not to mention the many efforts of Cecil B. DeMille — "The Sign of the Cross," "Samson and Delilah," "The Ten Commandments" and so on — that are practically a genre in themselves). In these films, the religiosity's a special effect — a light to be brought out, a Jesus cameo, a parting of the Red Sea. The lines between secular spectacle (the Roman swords-and-sandals epic) and the religious film are erased — for practical purposes, they're one and the same.
You can trace the complexity of America's relationship to Christinianity where religion becomes the excuse for horror shocks and genre exercises. Meanwhile, evangelical Christian filmmaking, as "Nightmare Movies" author Kim Newman puts it, rely on a subtext of "paranoid justification of America's tendency to demonise the United Nations, the Kyoto agreement or any other international body which opposes its interests."
There's a reason why the Vatican's much-ballyhooed list of great films almost entirely ignores the mainstream religious epic (aside from a nod to the inescapable "Ben-Hur") — it doesn't have a whole lot to do with religion. The religious films that the Vatican does gives the nod to tend to be on the ascetic, artsy side, like "The Gospel According to St. Matthew" or "The Flowers of St. Francis" — ones that makes more sense than the doughty Biblical epics of yore.
If, therefore, the news of a new 3D Book of Genesis film strikes you as a bit crass and absurd, it's actually in keeping with Hollywood's quasi-religious past, where the theology and morality are subsumed in favor of "woah" moments. It's not that audiences want more religious movies, as some claim; they just want spectacle, and nothing's more spectacular than that.
[Photos: "Jesus of Nazareth," NBC, 1977; "The Robe," Fox, 1953]