What do Timur Bekmambetov and Tim Burton see in each other?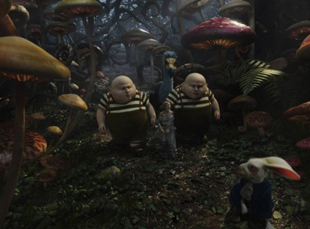 Posted by Vadim Rizov on
Judging by the early word-of-mouth on "Alice In Wonderland," maybe I'm not the only one to find post-millennial Tim Burton unwatchable. Next up, Burton's sitting on top of the unpromisingly titled "Abraham Lincoln, Vampire Hunter," which he'll produce in partnership with "Wanted"'s Timur Bekmambetov. The book is from the author of "Pride and Prejudice and Zombies," of course.
This will be the second time Burton and Bekmambetov have collaborated — they were both producers on last year's heinous "9," but that's a rant for another time. You have to wonder what they admire in each other. It's not like, individually, there's not a lot to dig: Burton's first run of work is impeccable (I'd place his hot streak from "Pee-Wee's Big Adventure" to "Sleepy Hollow," but your mileage may vary) and Bekmambetov's no slouch himself. "Wanted" is one of the most batshit blockbusters I've seen of late, a gleeful middle finger to physics and a chance to finally, finally see Morgan Freeman stop playing God. The Russian films that made him a hot commodity — "Night Watch" and "Day Watch" — are heavy on dour, Putin-esque oppression and fear of oil oligarchy, but they still bring the violent absurdity.
Why Burton and Bekmambetov are so psyched to work together (they bought the rights to the novel with their own money). Superficially, they're both fantasy guys, but their films are totally tonally different. Burton's more playful (or used to be, anyway), while Bekmambetov couldn't be more assaultive. Another key difference: Burton's work is about powerlessness, while Bekmambetov makes movies about power and what it means to achieve it.
As we all know, Burton was a weird kid, unmoored in suburbia, a misfit, an outsider. It shows in his work — every one of his protagonists is ultimately a failure outside of their own head. (Even Michael Keaton's Batman wasn't kicking that much ass when push came to shove; he seemed much happier as Bruce Wayne.)
Bekmambetov's movies, meanwhile, do not take lip from anyone — violence is how you get respect, and that's totally fine. Think of James McAvoy's memorable final line in "Wanted" ("What the fuck have you done lately?") — it's entirely symptomatic of the atmosphere surrounding "Night Watch" and "Day Watch," where daily combat is a way of life. I suspect this has something to do with Bekmambetov's background both as a Kazakhstani and as an Ashkenazi Jew (his father and mother, respectively) in a notoriously xenophobic and racist country. Bekmambetov's rise to the top of advertising and film probably required tremendous self-assertion, patience and very thick skin. And you see it in his movies.
So what do these guys see in each other? It's not a marriage of business convenience brokered by a bigger studio; Burton hardly ever works as a producer for others (he hasn't really franchised himself). Maybe they're funhouse versions of each other: for all the violence whirring around in Bekmambetov's universe, it's worth remembering that he, at one point (maybe still, who knows), was attached to an update of "Moby Dick," the ultimate in violent futility. So it goes: sometimes violence and cute alienation are the same thing.
[Photos: "Alice in Wonderland," Disney, 2010; "Wanted," Universal, 2008]