The Battle for the Future of TV Sets SXSWi On Fire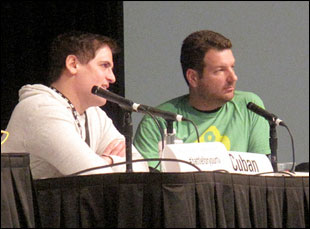 Posted by Anthony De Rosa on
Day one at SXSW Interactive ended with a bang or, more precisely, a fire alarm, which presumably was a result of the heated exchange between Boxee's Avner Ronen and Mark Cuban, owner of the Dallas Mavericks, and the man who made millions selling Broadcast.com, an internet-based media delivery system. The medium made him a rich man, but today he's skeptical about its legitimacy as a business.
About 20 minutes into the debate, the alarms went off and the entire Austin Convention Center was evacuated. 20 minutes later, everyone was let back in and the talk continued. Ronen had the room stacked with tech-savvy people, many who have already cut the cable cord. The crowd had grown jaded from years of paying extravagantly for hundreds of channels in order to watch the few they actually want, rather than going with the a la carte cart model being pushed by Avner's Boxee.
Cuban and Ronen had been going back and forth online regarding this very topic, and they decided SXSWi was the perfect venue for them to try and settle their differences. For those who aren't familiar with Boxee, it's software that you can run on the company's Boxee Box device, or almost any computer you hook up to your television, to tune into internet-based media.
It's a great piece of software, which owes much of it's technology to the XBox Media Center platform, developed more or less by a community of hackers who wanted to use their XBox for more than just a gaming device — they wanted to turn their television into a internet video portal. What was once available to the realm of a few technically savvy homebrewers cracking open their console (and thus voiding the warranty) is now going mainstream. It's become the darling of the tech crowd who prefer to pick and choose what they want to watch, rather than pay for a cable service that decides for them, and charges a premium for the privilege.
Cuban wasn't buying it, though — he more than held his own in a room where he had very few friends. "This a la cart model is for morons." he dismissively stated, as he tried to make his case for why the emperors of online video had no clothes. Cuban pushed hard, arguing that other than a few big players, like Apple, you simply can't get people to pay on a scale to make a solid business case for internet delivery of media. Ronen fired back with the question "What you are saying is that because you have lack of choice, you are going to win?" Cuban kept going back to the fact that Boxee can't monetize their business, while Cuban won't broadcast anything he can't make a dollar on, and he has a point. Everyone wants to be able to pick and choose what they want to watch, but with the internet giving so much of it away for free, few are willing to pay.
Ronen sees cable as a dead end. "If you're looking for innovation in cable, you're making the wrong bet." Cuban hailed tru2way.com as an example of where video delivery is headed. He stated that it gives you all the flexibility of the web with customized, on demand content, but with cable as the delivery system. Cuban doesn't believe the net has the plumbing available to be able to deliver the level of bandwidth that massively distributed video requires, but the current cable systems do. "Television is the future of television." Cuban stated, unimpressed with the medium that made him wealthy enough to make such sweeping statements.
In the end, the crowd (and many of those commenting along on Twitter under the hashtag #battleforyourtv) thought Cuban had won the debate, but that he was a dinosaur in a medium that's changing whether he likes it or not. However, some were willing to concede that if the next generation cable services Cuban described can actually deliver on the promise of real choice and customization of content, the delivery model won't matter. People don't really care if they're getting their content via cable or internet, they just don't want to keep paying extravagantly for 70% of television programs they never wanted to begin with.
Ronen wasn't able to make a clear argument as to why or how Boxee will succeed, other than citing a "generational shift" that simply doesn't accept the old models of pushed, packaged traditional media. He has a great product on his hands, but he's going to need to do a better job articulating his business plan, or hire else someone who can. Cuban's dissent and the platform SXSWi allows him are a good indication that the interactive community isn't an echo chamber where everyone's completely drunk on internet Kool-Aid. Although there are great ideas here, talented people and an unlimited supply of passion and enthusiasm, there are some tough business questions still yet to be answered.
I checked in with Tim Shey, the co-founder and head of entertainment at Next New Networks, who's been at the forefront of the content side of internet video. Shey noted that the net delivery system is experiencing the same growing pains cable felt in the beginning: "It also took many years for cable TV to be a profitable business. We're definitely right in the middle of a shift." Shey made the same argument that Ronen did, saying that given the option, and realizing what they're paying for, consumers would be more likely to choose the flexibility the net-based model allows. "I thought it was telling that Cuban said he didn't want HDNet on the web where 'he would have to compete with everybody.' "
Shey continued "companies like Boxee are trying to build that future, and they've clearly struck a chord — the best thing smart cable mavericks like Cuban could do is partner with and learn from them." Oddly enough, that's exactly what they did. Midway through the debate, Cuban and Ronen actually shook hands on a content deal: "If you offer me $3 a sub for all million of your subs, I'll do it." Ronen replied, "If I bring you a deal that pays you three bucks a sub…" Cuban said he would need to guarantee 500 thousand subscribers. Cuban said yes, based on the current HDNet rate card: "You take rate card for a half-million subs and you've got a deal."
Anthony De Rosa is the cofounder of Neighborhoodr.com. His personal tumblr soupsoup.tumblr.com is, according to Compete, in the top 25 of over 2.3 million tumblogs and among the top 200 blogs in the world listed on Technorati.