Where the blockbuster bad guys are.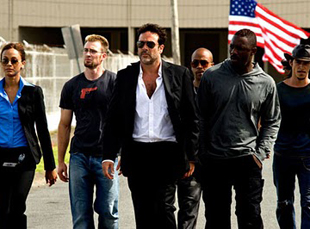 Posted by Vadim Rizov on
Looking forward to summer, the Independent's Tim Walker notes that there are three movies on the way "about a group of wronged ex-military dudes on a revenge trip."
There's "The A-Team," Sylvester Stallone's '80s-all-stars "The Expendables" (Sly! Dolph! Arnold! Eric Roberts!) and — first out of the gate — April 23's "The Losers," a graphic novel adaptation which — as Walker approvingly notes — has for antagonists "a topical mixture of fictional stand-ins for Halliburton, Blackwater and the Bush White House." Topical? Two years late, but never mind. "Stallone," Walker clucks, "is still fighting anachronistic battles: 'Rambo IV' replaced Vietnam with Burma, now 'The Expendables' sees its star exchanging fire with South American dictators, a plot line that belongs in the 1980s."
Well, I think Burma is very much still worth talking about, but never mind that. Hollywood films are not and never have been noted for their commitment to real-time villains in all the right countries — most of those Cold War movies weren't exactly politically accurate in their depiction of Soviet no-goodniks, and in the '90s a lot of bad guys were a random mixture of sinister indeterminately accented Euro-men, the ever-popular neo-Nazis and — most problematically — the generic jihadist. The latter were in some ways the go-to bad guys of the era, peaking with 1998's "The Siege," which pleased the American-Arab Anti-Discrimination Committee not one bit.
In a post-9/11 world, it's hard to make that cartoonish, and suddenly the complaints about Hollywood stereotyping and demonization carried much more weight. While the idea of a movie meditation on the Bush years being "topical" seems funny, actually engaging with the nuances of Islamic fundamentalism in your average action movie is totally impossible, unless Sly's going to figure out how to respond to Sunnis and Shi'ites between gunshot blasts. It's too much of a live wire — one way to explain why the meat-and-potatoes action movie has, at least for the moment, largely ceded ground to so many comic-book and CGI-based spectacles — the villains there don't have that charge, even allegorically.)
The only movies that have made any kind of serious effort to get their villains to be topical were the Bourne films — at the very least "The Bourne Supremacy," in which actual Russian oil tycoons were the villains (though you could argue that was meant to trigger subconscious associations of Russian baddies past). The truth is I haven't seen an action movie with a truly plausible villain according to what's actually going on in the world in a long time now, and that's totally fine — creating a politically coherent villain would involve taking up more responsibility than your average blockbuster can bear.
[Photos: "The Losers," Warner Bros., 2010; "The Bourne Supremacy," Universal, 2004]