"Audrey the Trainwreck": An ode to the everyday grind.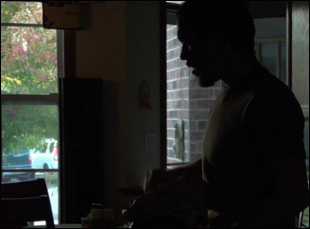 Posted by Matt Singer on
Reviewed at the 2010 SXSW Film Festival.
Every day of Ron Hogan's life looks exactly like the one before it. The alarm clock goes off at 6:30. After a stretch at the side of the bed, it's time to shower and dress. Then a stop off at the convenience store for the same cup of coffee before heading into work as a purchaser of ATM parts, where he has the same conversations with the same colleagues. After work, there's the same series of hopeless Internet dates at the same coffee shop, or maybe a round of drinks with the same co-workers at the same bar. People ask Ron (Anthony Baker) if he hates his job. We sense he does, but he refuses to admit it. Oh sure, it's repetitious, it's tedious, but it's a job. It could be worse.
"Audrey the Trainwreck," a sort of mumblecore-meets-"The Office," effectively captures the "Groundhog's Day"-like monotony of workplace routine. Maybe it captures it a little too effectively; at times, it's hard to tell whether the film is satirizing boredom or is just a little bit boring itself. Its subject matter — the soul-crushing sameness of a paper-pusher's life — and the film's approach to it poses an interesting question: how do you make a movie about dullness without making a dull movie? Or a movie about listlessness without becoming listless?
"Audrey" tries to do it by getting as deep inside those moods as it can, talking about them honestly and in unsparing detail, and punctuating the tedium with a dry sense of humor and occasional outbursts of surprising violence. The movie introduces Ron in the midst of game of darts, and as he reaches down to pick something up, his opponent throws one right into the back of the neck. The title appears on screen during his subsequent trip to the hospital along with an onscreen warning that "These things happen in threes," a clever way to add a nice undercurrent of suspense to the entire film.
Ron's world brightens — and the film's does, too — when he begins to connect with one of his blind dates, a delivery woman named Stacy (Alexi Wasser). Though they have different kinds of work — one white-collar, one blue-collar, one surrounded by other people, one alone in a truck full of packages — they share the same weary worldview. Writer/director Frank V. Ross has fun observing the essential truisms of corporate drudgery that exist even in the most disparate professions. Both of Ron and Stacy's jobs, for instance, make them dress in silly, uncharacteristic ways. Ron has to wear a Bluetooth headset. Stacy never makes a delivery without a brown knit cap, even on warm, sunny days.
Though Ron and Stacy are a little bit older and more responsible than the protagonists of a lot of other mumblecore movies, "Audrey the Trainwreck" still fits under that umbrella of films about dissatisfied youths looking, without much direction, for purpose and connection in their lives. And as profound as some mumblecore movies are, five years into the genre, a lot of them are beginning to blur together, a quality exacerbated by the fact that so many share the same crews and casts (this one features mumblemainstay Joe Swanberg and the star of his last film, Jess Weixler, in supporting roles). Naturalistic performances by Baker and Wasser and a great melancholy jazz score by John Medeski help set "Audrey the Trainwreck" apart. But there were some moments where I could relate to Ron's sense of endless repetition more than I would have liked to.
"Audrey the Trainwreck" does not yet have U.S. distribution.