Investigating Sex with Atom Egoyan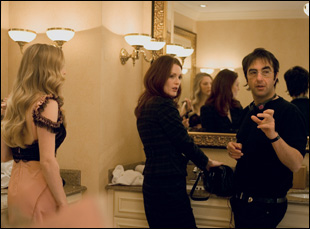 Posted by Aaron Hillis on
Since his 1984 directorial debut "Next of Kin" and throughout his long and twice Academy Award-nominated career, Canadian auteur Atom Egoyan ("Exotica," "The Sweet Hereafter") has regularly and artfully explored familial and marital dynamics through the filters of disconnection, struggle and cultural identity — personal motifs that reflect his Egyptian birth to Armenian parents. However, those filters are surprisingly absent in his richly entertaining character portrait-cum-erotic psychodrama "Chloe," which not only marks Egoyan's first remake (based on the 2003 French film "Nathalie…") but his only feature scripted by someone other than himself, "Secretary" writer Erin Cressida Wilson.
Julianne Moore stars as Catherine, a respected gynecologist who is convinced her ever-flirtatious professor husband (Liam Neeson) has been cheating on her. In a bold and impulsive move, she hires a high-class call girl named Chloe (Amanda Seyfried) to test her hubby's fidelity through seduction, then report back to her in lurid, XXX-plicit detail. The bond between these women soon builds to an intensity neither of them expected, until their relationship and the perceived love triangle begins to spin out of control. I spoke with Egoyan about jealousy, shooting sex scenes and why the film is decidedly not "Fatal Attraction" redux.
"Chloe" seems to stand apart from the rest of your work thematically and stylistically, especially since you often utilize a non-linear structure and this film doesn't. Might my perception have something to do with the fact that someone else adapted the screenplay?
Oh yeah, that was a huge part of it. It was one of the first times I saw a linear script that I felt was complex enough that I could attach myself to it and stay interested. I knew if I found the right actors and was able to set it in the place that I wanted to, that it was something that would remain challenging for me and more than keep my curiosity. The psychology, what's going on here, is so layered. There are so many things that are going through these two women's minds. It was a great experience, and far less lonely than writing and directing a non-linear script where you're constantly thinking of the structure as you're shooting. The plan here was pretty clear: to be able to draw the performances that were needed to sustain the full potential of what this movie's about.
I'm intrigued that you say "lonely." When you write and direct, I take it you're in a bit of a bubble?
Absolutely, because very often it's only when my team sees the final version that they get what the film is about. [laughs] That's just the reality of it. These scripts are quite schematic, and the actors trust me because sometimes their emotional trajectory is not following a linear logic. It's a risk! Some of these films work and some of them don't work because it's alchemy. You're not quite sure how these pieces will fit. While this structure, as I say, is tried and true. Even though it's very different in tone from the French original, the story has been told and you know it can work if it's performed right.
The direction we took it, which is very different in the second half from the original, had to be carefully calibrated. We knew what the emotional steps were to get us to that point. We were constructing the film around the performances, the way it was shot, and the music. We knew where we were headed. That's not so often the case with one of my movies. Something like "Adoration," the actors had to trust that the emotional resolutions that they were reaching were pitched at the right temperament from the way I was directing, as opposed to something they chart themselves. That's really different. It's risky.
How did you approach the material in terms of style and design?
From the moment we started this film, the motif of glass was really important. Catherine, who suspects her husband's having an affair, hires a young prostitute to flirt with her husband and report back as to how open he is. So Catherine's world is very much about glass as windows, about looking through windows, trying to control her life and the lives of the two men closest to her, her husband and her son. The house she lives in, the offices she works in — they're all set up as observation posts. She's looking at her family as though they're in an aquarium. That was how we established her world.
Chloe, on the other hand, is glass as mirror. From the moment we see Chloe, she's looking at herself in the mirror. Whenever we're introduced to her, it's usually through a reflection. That governed an entire approach to the shooting, where we're very aware of these different boxes of glasses the two women intersect through.
As a filmmaker who regularly explores eroticism, how do you shoot a sex scene so that it dramatically registers with an audience?
You said it right there. You approach it like you would any dramatic scene. You make sure that the actors understand what's going on in their head because it's not a cliché to say that the most erotic muscle we have is the brain, so we are able to understand how they're locating or dislocating themselves. You don't direct those scenes, tonally, any differently than you would a dramatic scene, because that's what they are. I'm not making a switch.
It's so funny that many people ask, "How do you direct those scenes?" To me, the worst thing you can do is shift the nature of your conversation with the actors. That would be very alarming. You make sure you're continuing this dialogue about who they are. What's their story? Why are they in this place? What are they hoping to find or get out of this moment? All those essential questions that inform any director-actor relationship.
A director might not be changing their methods, but the actresses are the ones who bare themselves. For example, Amanda Seyfried acts confidently in her nude scenes, so there's no way to tell if she had to overcome any shyness. Did she seem game for whatever you asked of her?
Sure, as long as you set parameters that you make sure they're comfortable with, and you stick to that. You don't surprise them on set. You don't suddenly ask for more. You agree on what's going to be seen, and you choreograph the scene accordingly. You're making sure it's well designed. If possible, you storyboard it. Then they're totally game.
The worst thing that happens sometimes is that they appear on set, they're prepared to do what was discussed, and then the director suddenly imposes something else. That creates panic. I've heard of that happening, and it's not fair to anyone involved. You have to be very specific of what's required, and make sure that's understood before you enter into this agreement. Amanda was drawn to this role, and you're not going to play a sex worker and not expect to explore sexuality. That's going to require some degree of exposure.