"Breaking Upwards" and "The Greatest" Explore Young Love's Doldrums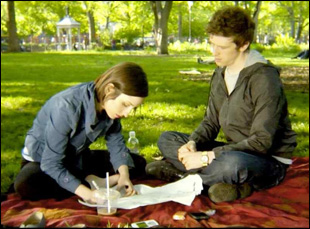 Posted by Lisa Rosman on
Now is the early spring of our discontent. Every year around this time, many of the films clotting theaters are the indies no one thinks will secure an Oscar nomination or the big-budget features studios don't have the faith will score sweet summer box-office numbers. Admittedly, these movies can turn out to be real gems — ones that are too original to be reduced to the glib two-term descriptions (Vampire Juno! The Graduate 2!) that calm distributors down. But more often, cinematically speaking, April is the cruelest month.
Take "Breaking Upwards," twentysomething director Daryl Wein's ostensibly fictional feature about Daryl (Daryl Wein)'s codependent breakup with Zoe (Zoe Lister Jones, who cowrote and coproduced the film with — wait for it — Daryl). The meta-meta premise may sound sketchy, but its execution is far, far worse. Overprivileged and fearful, 23-year-olds Zoe and Daryl inhabit a West Village bubble financed by the sort of New York parents willing to finance their faux-grown up children's love nests so long as they are also perpetually allowed to contribute their two cents.
The film begins with Daryl and Zoe knee-deep in a sexual act so lackluster that it not only alienates them from each other but also anyone remotely inclined to root for their relationship. In case we didn't get it, the lousy sex is followed by a lousy breakfast, in which the two silently scan their phones while chewing their eggs with a mindless aggression bound to annoy the other. It should be a relief, then, when they sit down to chart their breakup — planning out which "days off" they will take from each other as they transition out of their bland little web — but even that conversation rankles. "We need to be together on Tuesday! That's 'Idol!' " they say as they high five.
Needless to say, the transition doesn't go so smoothly, and both of them wrack up their fair share of hurt feelings while they overprocess not with their friends or siblings but with their parents and, worse, each other. Who are these overgrown kids, and why are we forced to watch their numbed-out, neurotic chit-chat? Perhaps their relationship should survive so that no one else — including us — is subjected to their glib whistling in the dark. As Cusack says in "High Fidelity," another mediocre breakup movie: "Only people of a certain disposition are frightened of being alone for the rest of their lives at the age of 26." In this plodding, plotting gimmick of a film, only Pablo Schreiber, as Zoe's loutish rebound, and the rarely seen Andrea Martin, as Zoe's oversharing mom, come off smelling like a rose.
Like "Breaking Upwards," "The Greatest" begins with an uncomfortably tight shot of young Bennett and Rose having sex. (Note to filmmakers: start elsewhere!) Just as we're realizing it's the 18-year-olds' first time and that they're in the throes of true love, we cut to a truck ramming into their car and then, just as quickly, to a hearse in which Bennett's parents (Pierce Brosnan and Susan Sarandon) and brother (Johnny Simmons) sit in a silence so long and remarkable that it hints at what writer/director Shana Feste may be someday capable of sustaining. Just not yet.
To her credit, she does let the actors do their thing. Sarandon wrenches every living inch out of a woman so undone by grief that she doesn't mind letting her husband and remaining son know that she just lost the only man that mattered to her, and, as her shell-shocked, formerly philandering husband, Brosnan's usually hawkish manner is replaced by worried, rapidly blinking eyes and a slight stammer that doesn't seem affected. Carey Mulligan ("An Education") is as overly precious as ever, however, as Bennett's girlfriend who postpones her Barnard scholarship to have her dead first lover's baby. To be fair, she's saddled with a setup that would sink far more genuine actresses than she.
And that's the problem with this script, which forces its agenda with every clunky step. It's not enough that Rose comes from an impoverished background; she has a con-artist of a mom who wobbles in and out of rehab. Just as one character suffers a potential heart attack, another falls off the wagon. And needless to say, Rose's water breaks just when the family stages a massive confrontation with her at the roadside location of their son's death. Enough.
In the press notes, Feste bemoans the dearth of films about families grappling with the loss of a child. It's such a poorly researched assertion (one that an elementary Google search would have nipped in the bud) that it suggests she may not have watched enough films to make one of her own — a fact that this paint-by-numbers first feature, alas, bears out. Although she shows real talent in visually capturing the small, wicked failures of people facing their hardest moments, in her next project, she may be better off directing other people's material or, realistically, directing for TV rather than film.