Animators who have made the live-action leap.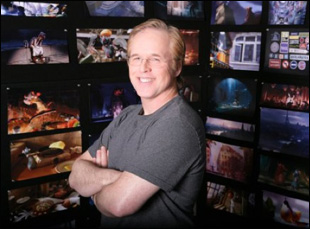 Posted by Stephen Saito on
It's a pleasant surprise to see that Brad Bird is being considered as a possible director for "Mission Impossible IV," a game of musical chairs that is said to include "Zombieland"'s Ruben Fleischer and Edgar Wright.
Of course, "The Iron Giant" director has never helmed a live-action feature before, though that shouldn't be a stumbling block if the action choreography in "The Incredibles" is any indication. (Bird's already had been working on a $200-million plus live-action adaptation of James Dalessandro's "1906," a romance set against San Francisco's most epic earthquake, which in turn pushed back a sequel featuring the superpowered Parr family.)
With computer-generated imagery of all types invading all the more into live-action films, it's no wonder that Bird is up for the gig, just as "Horton Hears a Who!" director Jimmy Hayward is putting the finishing touches on this summer's "Jonah Hex" and "WALL·E" helmer Andrew Stanton is starting to film "John Carter of Mars" as Pixar's first foray into live-action for 2012. Meanwhile, "Ice Age" director Chris Wedge had planned to make his live-action debut on an adaptation of Brian Selznick's adventure novel "The Invention of Hugo Cabret" before Martin Scorsese took the reins.
But the current crop of filmmakers who honed their chops in animation aren't the first to make the jump from sketchboards to stage boards. "My Man Godfrey" (1936) director Gregory La Cava originally started out adapting comic strips from Hearst newspapers into animated shorts before becoming one of the premier directors of live-action comic two-reelers during the 1920s. Decades later, he was followed by the esteemed careers of Terry Gilliam and Tim Burton, whose live-action work has long been informed by the same painterly eye as their animation.
Although Rob Minkoff hasn't exactly set the world on fire since transitioning from directing "The Lion King" to blending live-action and animation with "Stuart Little" and its sequel, he did carve out a career path for "Shrek" co-director Andrew Adamson to follow, with Adamson bringing his technical savvy to "The Lion, the Witch, and the Wardrobe" and "Prince Caspian" (not to mention his contribution as an executive producer on Lance Hammer's "Ballast").
Then there's Adamson's "Shrek" co-director Vicky Jenson, who made her live-action debut on last year's CG-free Alexis Bledel comedy "Post Grad." When asked about what the difference was between the two mediums, Jenson said, "The main thing I learned was to treat shooting the scenes as gathering pieces to work with later with my editor. I didn't go to film school so I had a tendency, from my animation background, to 'edit in the camera.' This bugged my boss and mentor Ivan Reitman to no end when he saw the dailies."
Of course, in recent years, this has been a two-way street, with Wes Anderson entering into the animated ranks with "Fantastic Mr. Fox" and legendary director of photography Roger Deakins consulting on the cinematography of "WALL-E" and, more recently, "How to Train Your Dragon." And perhaps it was "The Triplets of Belleville" director Sylvain Chomet who found the perfect balance between animation and live-action with "Tour Eiffel," his contribution to 2006's "Paris, je t'aime," that is almost too cartoonish to be real:
[Photo: Brad Bird on the set of "Ratatouille," Pixar/Disney, 2007; Andrew Adamson on the set of "Prince Caspian," Disney/Walden Media, 2008]