Seven deliberately anachronistic movies.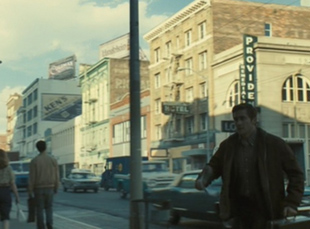 Posted by Vadim Rizov on
In a long, fascinating interview with DP Harris Savides at Moving Image Source, Savides — one of the best cinematographers we have — talks about how much of his recent work ("Zodiac," "Greenberg," "Milk," "American Gangster") has, in one way or another, drawn from the '70s. There's a startling side-by-side comparison of a Stephen Shore photo from 1975 above a still from "Zodiac," which momentarily looks exhumed from the era.
Savides, of course, isn't the only person who occasionally makes work that seems to have come from another time. Here are seven movies that, one way or another, aspire to look deliberately out of time.
"Paper Moon" (1973)
Perhaps no director has ever been as obsessed with recreating the texture of Old Hollywood than Peter Bogdanovich. Blessed with some power in the '70s, both "The Last Picture Show" and "Paper Moon" came in period-appropriate black and white. ("Nickelodeon" was going to be B&W too, but the studio forced a color release — you can get it as originally intended on DVD now.) Both movies then distort their surface retroness with all the things the old movies couldn't show — sex and nudity in "Show," copious child profanity in "Moon" — but the latter works better. Not as solemnly elegiac (and less confused about whether it's mourning the end of innocence or merely the end of old Hollywood), it's a plausible update of the screwball comedy, with new elements — deep focus shots (it looks more like still photos come to life rather than the visual language of '30s movies), racial tension — rather than a stillborn homage.
"Movie Movie" (1978)
Before "Grindhouse," there was "Movie Movie," which winkingly recreated a '30s double-bill with jokes (two years after Mel Brooks made "Silent Movie" no less; that's quick evolution). It's very specific in its target — not just the '30s, but movies typical of Warner Bros. at the time, meaning a black and white boxing quickie and a Technicolor musical (not that there were any Technicolor musicals that early on, but let the conflation of the '30s and '50s go). The joke's elaborate and meta in many ways, beginning with an introduction from Mr. '30s Radio himself, George Burns. It's directed by Stanley Donen, who — as co-director of "Singin' In The Rain" — knew quite a bit about Old Hollywood himself. It is, of course, not on DVD. So below is all we have for now:
"Tears of the Black Tiger" (2000)
There's way more going on in the head-spinning visuals of "Tears of the Black Tiger" than in the actual plot — with colors as heightened as "Far From Heaven" (suggesting a Sirk homage) butting up against Sergio Leone shoot-outs, being over-the-top isn't optional, especially when everyone is actually Thai and you're sort of re-creating "Romeo and Juliet." (It's complicated.) But Wisit Sasanatieng takes the genre mash-up a bit further; it doesn't just look like '50s Technicolor, but like a degraded videotape of same that then's been filmed and put back on 35mm. Parsing this stuff could keep you busy for all of graduate school.
"Down With Love" (2003)
In truth, this affectionate, detail-heavy parody of the Doris Day-Rock Hudson sex farces doesn't quite get the color scheme right. There's a definite gap between the modern look and the vintage production design, which suggests a degree of distance. But it's still a lot of fun, from the elaborate split-screens to Ewan McGregor's impersonation of the typical dumb American Hudson would pretend to be in disguise. Like many homages, it sneaks in slightly more explicit dialogue than could be done in the past — but, in the case of "Love," only slightly more so. It really is as fluffy as it wants to be. Warning: clip below has MAJOR SPOILERS. For, you know, a movie that came out seven years ago.
"Regular Lovers" (2005)
It's not that shooting in black-and-white is unusual for Philippe Garrel, who — despite starting in the '60s — didn't make his first film in color until 1991. But "Regular Lovers" is more than business as usual for the lovably pretentious Garrel. "Regular Lovers" shows us May 1968 and its aftermath in the old box ratio and in black-and-white — not what most people associate with the '60s, but, in fact, perfectly in keeping with some of Andy Warhol's work from the era (as Michael Sicinski explains here). Forget all that though: the clip below is sheer joy, a three-minute shot of cinematic Prozac.
"The Good German" (2006)
Probably the biggest failed experiment in Steven Soderbergh's gallery of oddities, the plan was to make this post-World War II thriller as it would've been in 1945 — black and white, hand-operated boom mikes overhead, no zoom lenses. In return for this dubious fidelity, Soderbergh gets to insert a great deal of sex and violence (Tobey Maguire clearly enjoys destroying his image with some vigorous thrusting early on) that would never have made it in back in the day, then throws in the Holocaust for good measure, pointing out what all those old movies were missing. The problem is that it's more theoretical than usual: the game actors don't know how to project and be comfortable when their words are going god knows where. If nothing else, this is a rare chance to see George Clooney without any charisma whatsoever, or to imagine what the end of "Casablanca" would be like if it was just boring.
"The House of the Devil" (2009)
16mm is the new Technicolor, it seems, when it comes to signifying The Past, especially if you're doing horror. Rob Zombie used it for "The Devil's Rejects" and "Halloween II"; Noah Baumbach digs it for a '70s vibe, as Savides discusses, most memorably on "The
Squid and the Whale." Once a cheaper stock for indie kids, it's now a fetishized tool for grain and a retro look. Ti West pushes that about as far as he can in "The House of the Devil," which is as meticulous as any film on this list but on a smaller scale (I particularly like the vintage campus pizza parlor). As far as faux-time capsules go, the only thing that gives it away is that it's way, way better than most of the '80s slashers it ostensibly resembles.
[Photos: "Zodiac," Paramount/Warner Bros., 2007; "Paper Moon," Paramount, 1973; "Movie Movie," Warner Bros., 1978; "Tears of the Black Tiger," Magnolia, 2000; "Down With Love," 20th Century Fox, 2003; "Regular Lovers," Zeitgeist Films, 2005; "The House of the Devil," Magnet Releasing, 2009]