Reliving the Obama drama of "11/4/08."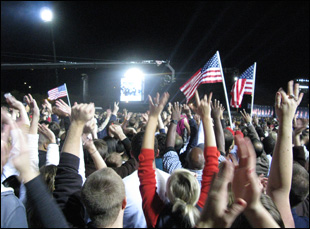 Posted by Stephen Saito on
Reviewed at the 2010 SXSW Film Festival.
The loud yellow letters that open Jeff Deutchman's "11/4/08" announce that "You are watching a consensual piece of cinema," which carefully sidesteps the fact that it is not a film in any traditional sense of the word. Shot on dozens of digital cameras, it could also be described as a work in progress, compiled by moviemakers across the country and around the world on the night Barack Obama was elected president. It deals in emotions as opposed to narrative, and in the idea that moviemaking can be a social collective rather than an exercise in the auteur theory.
In the interest of full disclosure, it should be mentioned here that Deutchman is also an acquisitions exec for our sister company IFC Films, though the companies are separate and I've never met him personally. As it turns out, neither have some of the people who helped make "11/4/08" — he made a point of shaking hands with Austin filmmaker Thomas Humphries after the film's premiere since the two had never been in the same room together. Rather than crediting himself as a director on the project, he takes the less proprietary "curated and edited by" tag, culling together 70 minutes of material from 7 a.m. eastern time to 4 a.m. the following morning of the historic election day.
Within a matter of seconds, you're being swept into the home of a family awaiting voter tallies in Homer, AK before following Joe and Kris Swanberg as they hang Obama leaflets on doors in Portage, IN and then away it is to Manhattan where some twentysomethings have discovered that their "I voted" sticker could be used to get all the free Starbucks coffee they want. Some of the people behind the cameras are relatively well-known like the Swanbergs, "The Order of Myths" director Margaret Brown and "Catfish" co-director Henry Joost, but according to the press notes, there were nearly as many amateurs contributing footage of varying levels of video quality that Deutchman weaves together into a document that reveals the parallel experiences of that day in something approximating real time. While a political scientist is waiting outside of Obama's district polling place to catch a glimpse of the soon-to-be president-elect in Chicago, Obama volunteers in St. Louis are revving up for their final get out the vote push, and as the day wears on, so do the locations as we're treated to glimpses of Dubai, New Delhi and Berlin.
According to the press notes, Deutchman hatched the plan for this via a mass e-mail only two weeks before the election and while the fact that there was something completed for SXSW is remarkable, it is also, for better or worse, a "take what you can get" situation. Although Robert Drew would be proud of the direct cinema distillation of pure human experience on display, there's also no natural story arc on which "11/4/08" can hang its hat — the closest it comes is showing the red, white and blue balloons that a man is carrying in downtown Manhattan being used for a post-election party at a New York club near the end of the film.
There are many man-on-the-street interviews on subways and streets, and at viewing parties and campaign headquarters, but while there is some diversity among those being interviewed, at least racially, there isn't nearly enough generationally or politically to generate much tension. (It doesn't help matters that the lone two Americans who say they won't support Obama don't present well — one is dressed shabbily and comes across as a closet racist, the other looks like he just got done short-trading your future; an interview with a woman in Dubai who resignedly says it won't matter who is elected is a more poignant voice of dissent, but although one can't fault the moviemakers for not being able to predict the future, the person posing the question makes the folly of insisting that Obama would withdraw troops from Afghanistan while rival John McCain would not.)
Still, there are moments where "11/4/08" shines. In St. Louis, the back-to-back testimonials of two Obama volunteers — a 21-year-old woman whose father was fired when he refused to sell subprime mortgages to support her college education and a middle-aged African-American who reminisces about Emmett Till — has the power of a double-barreled shotgun blast. Similarly affecting is an ex-con sitting on the bleachers in Brooklyn who is distrustful of all the reports that the momentum is building towards the election of the first African-American president, yet sits stoically with his eyes fixed on the big screen in a public park. Knowing that there are many other moments like this out there, Deutchman ends "11/4/08" by asking for more footage at the web site, 11-4-08.com, where what was presented at SXSW will become in his words, "a living document." It should be worth it to stay tuned.
"11/4/08" currently has no U.S. distribution.
[Photos: "11/4/08," Consensual Cinema, 2010; Deutchman, holding mic, and many of the other filmmakers onhand for the SXSW Q & A, photo by Stephen Saito]