Watching your younger self on screen.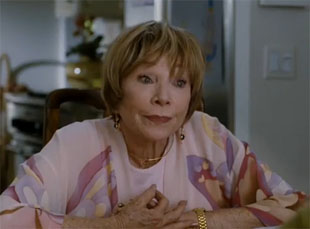 Posted by Vadim Rizov on
In an interview with the Independent, Shirley MacLaine reveals what might possibly be the only interesting thing about the big, bloated "Valentine's Day" monster coming our way. During an argument with her husband (played by director Garry Marshall's good-luck charm Hector Elizondo), the 1958 film "Hot Spell" screens in the background — representing the couple's on-screen marriage, sure, but also showing us how much/little MacLaine's changed in fiftysomething years of acting.
It's an effect that's not nearly as common as you'd suspect — using the camera to show us icons changing and aging up to the movie that they're in now. It can verge on outright bathos and exploitation, but it never fails to spark my inner morbidity. Seriously. Yesterday, I had to watch "The Spy Next Door" for work — the lousy Jackie Chan for kids vehicle currently exiting theaters in a hurry. But for two minutes I didn't begrudge it, in its opening montage establishing Chan's spy bona-fides by briskly montaging together his entire filmography.
The earliest example I can think of is "What Ever Happened To Baby Jane?," which (pretty cruelly) has Joan Crawford watching herself in the '30s on screen. Then there's "Space Cowboys," with its Photoshopped depiction of the young crew of Clint Eastwood, Tommy Lee Jones, Donald Sutherland and James Garner all together, young and fresh-faced and probably the most effective thing about the movie.
There was a moment in "Up In The Air," where George Clooney takes Vera Farmiga back to his high school and shows her what I presume are photos of the real young Clooney playing basketball — but Clooney's hardly old enough for this to be tearjerking; it's mostly curious.
The only other example that's coming to mind right now, really, isn't is a movie: it's Mark Romanek's video for Johnny Cash's "Hurt," which is almost emotional porn. But surely there's more out there. What say you readers? What kind of on-screen aging within the body of the movie freaked you out?
[Photos: "Valentine's Day," New Line Cinema, 2010; "Space Cowboys," Warner Bros., 2000]