"When You're Strange," The Doors, Johnny Depp and Tom DiCillo.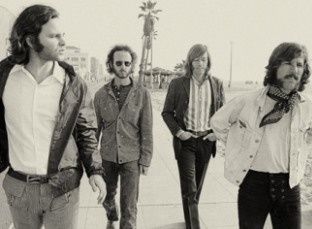 Posted by Brandon Kim on
The Doors documentary, "When You're Strange," was recently revived when the narration was given to an enthusiastic Johnny Depp to deliver. The doc's director, Tom DiCillo, ("Delirious," "Johnny Suede") gave the original narration. It may seem insignificant, but Johnny made some tonal changes including using first names, where DiCillo's prior narration, which was universally described as disastrous, distantly referred to the subject's as Morrison, Manzarek, etc.
In contrast, Johnny seems to have thrown his voice into the project with a kind of kindred spirit which is apparent in the comments he's made about the film – "When You're Strange is a meticulously crafted, exhilarating ode to one of music's greatest ensembles. Watching the hypnotic, hitherto unreleased footage of Jim, John, Ray, and Robby, I felt like I experienced it all through their eyes. Here, Jim has been resurrected to remind us that he is, to this very day, one of the most significant frontmen/poets/shaman to ever grace a stage while the band behind him kept the music alive, adding fuel to an already raging ride into history."
The "hitherto unreleased footage" he refers to is all authentic 35mm from the 60's and early 70's when The Doors had fellow UCLA film students rolling around with them. From what I gather the footage that makes up "When You're Strange," is pieced together from both performances and candid off stage bits filmed by their filmmaker pals, along with material from two films that The Doors had worked on – one titled "HWY" based on a script penned by Morrison called The Hitchhiker and a documentary called "Feast of Friends" that was never completed.
Producer Dick Wolf (yeah the "Law and Order" guy) commented on the ironic trouble they has using only this authentic footage: "That was one of the biggest problems at Sundance. A distributor marched out 10 minutes into the film, outraged because, he said, "These are reenactments. That's not Jim Morrison in the opening," …the picture with the beard. There is not one foot of film in this picture that was not shot between 1965 and '71. And it was very confusing. It was one of the things that there were endless discussions on, "How do we educate the people that that is really Jim Morrison and it was shot then?" Because nobody's seen that film."
[From Pop Culture Zoo]
The film is now slated for an April release followed by an airing in May on PBS' American Masters.