What's up with all those Wes Anderson spoofs?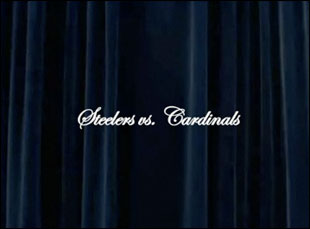 Posted by Vadim Rizov on
Super Bowl Sunday is coming up fast, so Slate has a video called "If Filmmakers Directed The Super Bowl." Here you can find by-the-numbers appropriations of various filmmakers: football footage intercut with anime and "Kill Bill" font and songs spell "Tarantino." For Lynch, run the footage backwards. For Wes Anderson, by all means play "This Time Tomorrow" while running a random shot in slo-mo.
It's odd how many Anderson parodies there are out in the world. This week also saw the arrival of "Wes Anderson Spider-Man." I also found "Ramsey's First Grade Journal by Wes Anderson", "wes anderson's john mccain ad"[sic]. They're all the same, with the variable of a voice-over narrator –the slo-mo, the soundtrack choices, the flat line readings.
It's weird how people gravitate towards the most reductive view of Anderson's work. Okay, not that weird — this is the internet, where literal-mindedness always reads well. And Anderson does make himself awfully easy to lampoon. But these parodies never feel accurate to me — I can never tell if they're works of love or hate, and they never seem like convincing simulations of an Anderson film.
A full reckoning with, say, "Rushmore" would include the incredibly awkward scene where Olivia Williams turns on Jason Schwartzman and hisses "hand job" at him while he stumbles. A full reckoning with Anderson's catalogue in general would include "Bottle Rocket," a movie that conspicuously avoids parody. Anderson has made six features that are recognizably the product of the same sensibility (and compositional sense) but that, in fact, don't really repeat themselves. There are a few tics in there (I'll concede the slo-mo), but less than you'd think. It's mostly about the shots.
I happen to believe "The Royal Tenenbaums" is Anderson's worst movie — and it's telling that that's the one that tends to get parodied the most. You could call it "quirky," and I'd have to agree. But otherwise, the movies dance around that dreaded term: save for the suicide scene, "Tenenbaums" tends to suffocate and repress all the pain, but the others deal with it in various forms, some more than disruptive than others. But watching those damn YouTube videos, you'd think all Anderson movies were just some dude listing random character adjectives in voice-over while blank, chain-smoking twentysomethings prepared to leave the room in slow motion.
It's almost like people want to punish Anderson for having a recognizable style — consistency's apparently a drag. And in general, I'm bothered by the idea that having a distinctive touch actually just boils down to a generic bag of tricks. In that Super Bowl video, everyone who's getting parodied is easy to pin down because of a few hallmarks (like Werner Herzog's voice). Instead of dealing with what the filmmakers are actually up to, it's easier to pretend they're just style over substance, or to take the cheap shots instead of trying to replicate the equally distinctive but trickier control of, say, P.T. Anderson.
You know what a Wes Anderson commercial looks like? It looks like that American Express commercial, sure, but it also looks like the IKEA commercial below. Now you tell me about how Anderson can be pinned down in 30 seconds or less. Sometimes style just isn't all the substance on display.