The dangerous power of David Lynch's voice.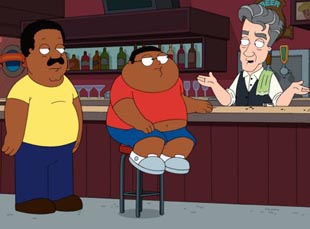 Posted by Vadim Rizov on
David Lynch has, as I'm writing this, 225,395 Twitter followers who are regularly treated to such insights as "I plan to cut strips of Douglas Fir for trim on plywood and apply Fix-All on a large canvas. What are you doing this weekend?" Nice work if you can get it — anyone else who posted things like that would be lucky to get even their close personal friends to follow them, much less hundreds of thousands of people.
But that's the power of Lynch's voice, which the late David Foster Wallace once described as "Jimmy Stewart on acid." In its peculiar, stop-start cadences and cartoonish tone — in stark contrast to the darkness of his movies — it makes even the most uninteresting material sound good. Lynch could get away with reading the proverbial phone-book — he comes awful close with his daily weather reports.
Lynch knows how to exploit his own persona shamelessly. His is arguably one of the two most recognizable directorial voices working today. The other is Werner Herzog, whose Teutonic purr and tendency towards the hyperbolic is unmistakable. Herzog's voice can make everything better — even a fairly implausible video that made the rounds a few months ago ("Werner Herzog Reads Curious Charge") had its fans, people who presumably can't wait for the next infinitely listenable Herzog soundbite. The two's cadences have probably earned them fans by virtue of their sonics alone.
The difference between Herzog and Lynch, of course, is that Lynch is all about the delivery. If you read his Twitter in your normal voice, it's nothing. It's all about imagining him delivering it. Herzog, on the other hand, generally says things that are meant to be actively processed — his interviews read just as well as his oral pronouncements. Both of them constantly toy with self-parody — the affection people have for how they sound borders on amused condescension and has a tendency to flatten the nuances of their movies, or subordinate them as being less diverting.
Still, it's better that than the case of Quentin Tarantino, a director whose voice is also instantly recognizable, but mostly for its adenoidal tendencies and the mildly pedantic tone he brings to bear in discussing his influences and enthusiasms. In his case, everyone can recognize him, but few people would want to listen to him for very long (even though his interviews are generally fascinating).
[Photos: David Lynch as Gus the bartender on "The Cleveland Show," Fox, 2009-present; "Incident at Loch Ness," 20th Century Fox Home Entertainment, 2004]