Video Premiere! Cars & Trains: "The Sun Always Sets"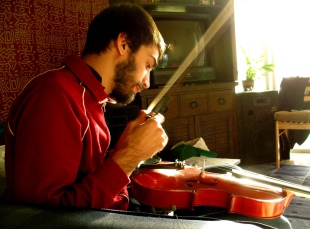 Posted by Brandon Kim on
Portland's Cars & Trains, aka Tom Filepp, paints this gorgeous ballad "The Sun Always Sets" in watery guitars and churning drums, then washes it in rumbling tones and dusty crackles. Director Lew Baldwin renders it perfectly in the burned out clouds and old coffee stained pages of this comic book video.
A collaboration with Illustrator David Foarde, the video uses a patchwork of his illustrations along with found objects (comic book pages, old children's books, and scanned paper), and video. The result is a pleasing patina of hand-made fantasy. Dig:
In case you just dreamily watched and listened bu have no idea what's going on, here's an amusing author's summation…
"Traversing the landscape of an old Japanese comic book, a young couple in a hot air
balloon float into a mysterious land filled with smoke and garbage. After nearly getting squished by a giant hand, the young man floats quietly into a river of blood where he is nursed to health. They awaken a strange hairy creature from a pile of garbage that takes note of their balloon and makes a dash for the exit door."
More Cars & Trains.
Directed by: Lew Baldwin @ skinnyny.com
Illustrations by: David Foarde (davidfoarde.com)
'Found' Comics from 'Young Sunday' vol. 32
Happy Birthday Megs!