Thoughts on the tenth anniversary of Jim Varney's death.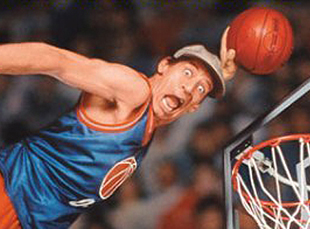 Posted by Vadim Rizov on
Ten years ago Jim Varney, best known as the once-ubiquitous "Ernest," died of lung cancer — ironically enough for a guy who made one of the more chilling anti-smoking ads I've ever seen.
The character of Ernest is, to my knowledge, the only comic character created expressly for advertising purposes who transitioned into his own cinematic franchise. How he did this remains unclear. Ernest began in 1980 as the brainchild of a Nashville ad agency and first wound up on film on 1986's "Dr. Otto and the Riddle of the Gloom Beam," a dark cult item that looks pretty much unwatchable. (Its Wikipedia synopsis is an untoppable feat of vandalism.) It was the wild commercial success of 1987's "Ernest Goes To Camp," though, that began Varney's transition out of commercials to simply selling himself.
Though critically loathed, Ernest has survived and endured more than anyone might've suspected — there has to be least two solid hours of Ernest footage of various sorts on YouTube. A Tom Brokaw interview embedded below dubbed his brand marketability "redneck selling power." By being on every TV market in the US, but always in local spots, Ernest created personal affinities with people all over the country that national advertising wouldn't have achieved. This kind of redneck camaraderie, self-consciously exploited, arguably paved the way for the likes of Jeff Foxworthy and Larry the Cable Guy. You're welcome.
And when he became a movie star, he made movies for uncomplaining kids, adjusting to the times as he went along. "Ernest Goes To Jail," per Caryn James' contemporary review, gets a little Pee Wee Herman-ish in its depiction of Ernest's house as "an overstuffed playroom," complete with in-house Ferris wheel. He later downscaled to profitable direct-to-video ventures; he was working on the tenth "Ernest" movie when he died at 50.
As a kid, I never really understood why Ernest's face seemed to be taking up advertising space in every waiting-room magazine, but looking at the footage I'm suitably impressed. It's a modest bit, occasionally grating but definitely distinctive. Here's a good sampler, per that Brokaw profile, which features a one-of-a-kind moment of Varney performing "Hamlet" (his life-long dream):
[Photos: "Slam Dunk Ernest," Buena Vista, 1995; "Witless Protection," Lionsgate, 2008]