"Valhalla Rising," Mads Mikkelsen as the nutcracker.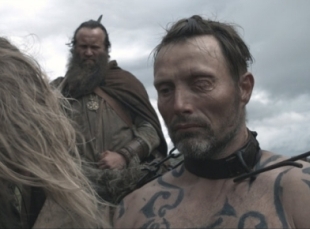 Posted by Brandon Kim on
It seems that Danish filmmaker Nicolas Winding Refn ("Pusher," "Bronson") is set to engage Mel Gibson in a contest to see which can outdo the other in onscreen ultra-violence. The few moments of Refn's "Valhalla Rising" that I've seen contain more scalping, decapitation and intestinal evisceration than were in the entirety of "Braveheart" and it's claymore cleaving 177 min.
Gibson has his own Viking picture in the works, reportedly starring Leonardo DiCaprio, and in true Gibson fashion will be in English subtitles with spoken Old Norse. Obviously it will be the most violent picture since "Apocalypto." But it's going to take a lot to top this tale of two slaves, Are and One Eye played by Mads Mikkelsen ("Casino Royale"), in the company of angry Vikings in 1000 AD. What's with Mikkelsen always playing scary guy with a jacked up eye?
Check out what seems to be a poorly translated synopsis:
"One Eye, a mute warrior of supernatural strength, has been held prisoner by the Norse chieftain Barde. Aided by Are, a boy slave, One Eye slays his captor and together he and Are escape, beginning a journey into the heart of darkness. On their flight, One Eye and Are board a Viking vessel, but the ship is soon engulfed by an endless fog that clears only as the crew sights an unknown land. As the new world reveals its secrets and the Vikings confront their terrible and bloody fate, One Eye discovers his true self."
Danish composer duo, Peter Kyed and Peter Peter, (not to be trifled with I'm sure) score the film, but the pleasure with this trailer is all Tchaikovsky – and his Nutcracker Suite. It's so over the top. Let the one-upsmanship begin!