Tim Robbins, evil right-wing millionaire.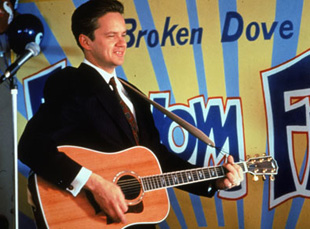 Posted by Vadim Rizov on
Out of the small group of actors whose politics are nails-on-chalkboard jabbery to me, Tim Robbins is right up there with Sean Penn for sheer self-regard. But there's a key difference between the two (besides, grudgingly conceded, that Penn's a better actor). The parts Penn takes almost never tell you anything about himself, while Robbins seems to get a special kick out of portraying The Enemy on screen.
Consider Robbins' latest announced role, as "Senator Hammond," father of arch-villain Dr. Hector Hammond, in "The Green Lantern" — a character that, as far as I can tell, was created for the film. This review of a first draft of the long-gestating project describes him as "a John Glenn-like former astronaut" disappointed in his ne'er-do-well son, but my immediate assumption was that Senator Hammond was going to turn out to be complicit in his son's crimes (collusion between congress and private insurance?). That, at least, would be in line with Robbin's track record — playing a distant relative of Bob Roberts.
Bob Roberts is the anti-hero of Robbins' 1992 directorial debut, a soulless conservative running for senator who mouths whatever platitudes he has to to get elected. Robbins goes too far in order to make his point — the whole thing devolves into some kind of implied assassination that suggests he watched "JFK" a few too many times — but the movie amusingly captures the overwrought tenor of the times in the same way as the equally roughshod "Wall Street" and "Bulworth."
But Robbins has also been a go-to evil conservative for others, in a variety of ways. It's like he wants to embody everything he hates. In "Antitrust," he does a Bill Gates impersonation; in "Catch A Fire," he kicked it up a notch as an "anti-terrorist official" (read: zealous apartheid enforcer). In between, Robbins had a high old time nearly destroying "War of the Worlds" with his turn as a lunatic preservationist, hiding in the basement with the guns and granola.
Robbins has also spoofed himself at least once — briefly, in "High Fidelity," as the face of pony-tailed, self-regarding, smug liberal self-satisfaction, although that mostly seems like a jape at Hollywood agents inexplicably transplanted to Chicago. But mostly Robbins seems to be conducting an on-and-off campaign at depicting everything he hates himself. Is he good at it? I wouldn't say so — he lets the side down too often, making himself cartoonishly villainous (I'm not sure how that makes him any different from Danny Huston though). But that's how he sees the world.
Anyway, if you haven't seen the "Bob Roberts" "Wall Street Rap," you really should. Bob Dylan, meet the '90s:
[Photos: "Bob Roberts," Artisan Entertainment, 1992; "Antitrust," MGM, 2001]